Wednesday 9th May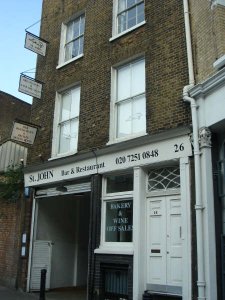 Photo by a member of the Rhodes clan - anyone want to claim it?
I just want to say a quick word about St John Bar and Restaurant (at Smithfield), where we held our wedding reception. It was perfect. They took us in their stride, whether I was being indecisive, elusive, premature, disorganised, over-organised, or just plain bridal. They knew what would work for a crowd of people and at that time of year, and they made it happen. We had enormous fun tasting and choosing the menu (though I'm very glad we had the help of some food bloggers to give us a headstart on choosing the wines), which in the end looked like this:
Globe artichokes and vinaigrette
Anchovy twists
St John House Champagne
Roast shallots and goats curd (V: Dandelion and shallot salad)
Coteaux du Languedoc, Chateau de Lascaux
Roast lamb, green sauce, seasonal potatoes and greens (V: 'Spring on a plate')
Chorey lès Beaune Burgundy, Arnoux Pere et Fils
Chocolate cake with crème fraîche (V: Lemon sorbet)
Rivesaltes sur Grains, Domaine Boudau
We chose it as a venue because we thought it would fit - and it did. Our motto throughout has been 'no frills', and we wanted the reception to be bright, and clean, and fuss-free. The food generous and seasonal (and interesting but not scary); the wine french, the lamb english. We didn't want flowers, or ribbons, or a colour theme, or speeches, or dancing, or formal photos, or 'wedding food' and a big white cake (not that I haven't loved those things at other people's weddings, and always will: but they aren't us). And that's exactly the way it was: just lots of friends and family in a big bright room full of the smell of food and the sound of happy chatter. Wonderful.