Tuesday 28th March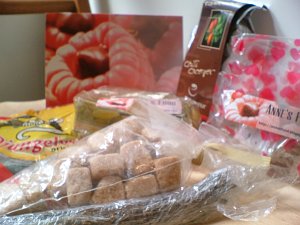 Full of the joys of spring here as my EBBP parcel has arrived - from Sweden, where the days are long, the liquorice salty and the middle of Lent marked by a national day of waffle eating. I love it already. My parcel is from Anne of Anne's Food - who heroically put together a package of delicious things despite not feeling 100%. And look at the treats she sent! Lavender nougat. Chilli chocolate balls - to be melted for the ultimate warming hot chocolate. Green Iranian raisins, which are unlike any raisins I've ever tasted - less sweet and hence very moreish. Vanilla beans (so that's what smelt so good!) Raw brown sugar. And of course, the sweet that separates the men from the boys and the Northern Europeans (certainly the Swedish, I think also the Dutch?) from erm, everyone else on earth... salt liquorice. A lovely bonus is Anne's gorgeous stationery, the card and stickers with her blog's banner and URL on. Admit it, most of our blogs don't have enough accessories... Thank you Anne, thank you Andrew for organising! As usual the roundup at Spittoon Extra is full of good ideas for next time...
Saturday 25th March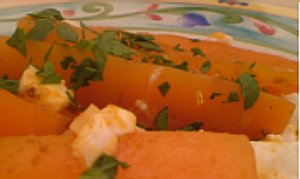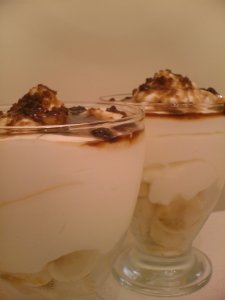 This month Too Many Chefs has set a very interesting challenge for Is My Blog Burning? #24. Thirty minutes from ingredients to table: a full meal in half an hour with as little recourse as possible to pre-prepared ingredients. As TMC say, in the real world it's really useful to know that sometimes you can come through the door after a long day's work (or a horrid commute) and still have dinner on the table at a reasonable hour - and the subtext is that it's really pleasing to know that sometimes you can do that without compromising your foodie principles - that is, your preference for cooking decent food from fresh ingredients. Apart from anything else, it's good for you... the further away your meal seems at that tired&hungry moment, the more likely you are to resort to the biscuit tin.
Personally, cooking this fast isn't something I do very often - I'm lucky enough to get home most days in time to spend a bit longer on dinner, and I enjoy the process sufficiently to potter around for forty-five to sixty minutes most days. And of course I rarely make three courses for two of us! If I'm cooking for guests I definitely make sure I have longer... But yes, I found it was possible. It certainly took a bit of forethought, and one of the thoughts I kept coming back to was that this was a particularly hard time of year to manage it (it's still fairly cold here in London). The fresher, riper and more varied the seasonal produce, the less you need to do to them. Anyone can get three courses on the table in thirty minutes if two of them are salad and one strawberries and cream. In winter we eat more carbohydrates, more meat, more root veg, and we want to cook them for longer, for comforting tenderness and subtle depth of flavour.
Anyway, this is what I made, and this is how it's done.
Harissa-glazed carrots with feta
Lamb with pine nuts and hummous
Banoffee-in-a-glass
Shopping/store cupboard list:
Baby carrots (punnet); vegetable stock powder/cube; cumin; harissa; feta cheese (100g); flat-leaf parsley; pitta bread; pine nuts; minced lamb; smoked paprika; cinnamon; hummous (two small tubs); garlic; bananas; double cream; mascarpone; one egg; dark brown sugar.
Put the kettle on.
Trim carrots and halve lengthways (baby carrots are specified so that this is all the preparation needed - larger ones would need peeling and more chopping).
Heat olive oil in large pan; add carrots in one layer.
Add cumin to carrots.
Use boiling water to make up vegetable stock; add to carrots.
Add teaspoon of harissa to carrots (or as much/little as you like); turn heat down and cover.
In a frying pan, toast a good handful of pine nuts.
Simultaneously, but being sure to take the nuts off the heat before they burn, slice a banana or two into two glasses.
Nuts still going? Whip a small carton of double cream until it stands in soft peaks.
Nuts are surely done by now. Gently beat one egg yolk and a tub of mascarpone into the whipped cream.
Turn the nuts out onto a plate and add lamb to frying pan. Break up and fry until no pink remains.
Simultaneously - the lamb certainly won't burn - spoon the cream/cheese mixture over the sliced banana(s).
Sprinkle a teaspoon of brown sugar over the cream/cheese in each glass and put them in the fridge. The sugar will melt into a rich caramel topping. They'll be best if you leave them a little longer than until the end of the thirty minutes; but as you have two other courses which conventionally you'd eat first, I don't think that's cheating too much...
Add a generous amount of cinnamon and paprika to the lamb. A small handful of currants would also be an acceptable addition here.
Remove lid from carrots and turn up heat to reduce liquid to almost nothing.
Toast a few pitta bread (in the toaster).
Chop a large bunch of parsley.
Pop! Crumble feta over carrots and plate up.
Sprinkle no more than half the parsley over the carrots and serve with pitta bread.
Turn heat right down under lamb; add pine nuts and cover. Your thirty minutes are up.
Eat starter.
Spoon hummous onto plates, spread out and pile lamb on top. Sprinkle rest of parsley over and serve.
Eat main with any remaining pitta bread.
Eat dessert. Ginger biscuits would also be good here. Relax.
Tuesday 21st March
Everybody needs a recipe for emergency baking. Something you can throw together no matter how bare the cupboard is, without any preparation, planning or (especially) shopping. It's an impossible dream, really, because if the person exists who's organised enough that they never, ever, use the last of the flour and sugar before getting round to buying a new bag, I certainly haven't met them. But my vegan biscuit recipe - which I blog about approximately once a year, I know - comes close. For me, you see, the most common obstacle to Sunday afternoon baking is lack of eggs. (This is usually due to my greedy and short-sighted insistence on omelettes for lunch.) So a recipe which enables me to knock out a tray of biscuits - even if they are never quite crunchy enough - is a godsend. The original recipe (from the Aldeburgh Cookery School) flavours them with spices, and my usual habit is to use Chinese five-spice. But of course you can add anything; a recent success was to add cocoa powder and cocoa nibs.
100ml olive oil
100ml sweet white wine (one marked suitable for vegans, of course)
75g caster sugar
150g plain flour
1/2 tsp bicarbonate of soda
up to 3 tsp spice, cocoa powder etc
up to 3 tbs cocoa nibs, chocolate chips, fennel seeds, chopped nuts etc
Mix oil, wine, and sugar; fold in dry ingredients. Place teaspoons of the mixture onto a baking tray, spaced well apart. Bake for twenty to twenty-five minutes.
Monday 20th March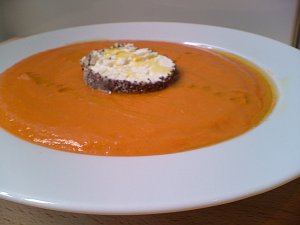 This is a nice easy soup with the virtue of flexibility. Leave it chunky and it's a filling lunch; blend a bit longer, strain and garnish it and it's good enough to serve to anyone. It's two tins of chickpeas with pepper (1), tomatoes (half a punnet) and onion (1) - the veg roasted for thirty minutes to get lovely caramelised edges. That's really it. I used a little vegetable stock for liquid and about quarter of a teaspoon of smoked paprika. For lunch I'd blend this roughly, maybe add the second tin of chickpeas afterwards so they stay whole. For dinner, blend more thoroughly (maybe in a stand-up whizzer rather than with the trusty hand-held vibrator) and pass through a medium sieve so it's completely smooth. Goat's cheese is always a good combination with peppers and tomatoes, and I liked the concentric circles look of floating a slice from a small buche de chèvre in the centre.
Wednesday 15th March
Apparently yesterday (3.14 in the American parlance) was the annual international Π Day, when mathemeticians around the world, bless 'em, celebrate the magic number that anyone who ever tried to reduce a cake recipe because their tin was too small knows well: 3.14159265... etc. That seemed as good a reason as any to excavate from the freezer a pie I bought at a food fair around Christmas. I assume I was feeling Christmassy when I decided I needed a game with red wine pie on hand 'just in case' of unexpected visitors, sudden starvation, and the like. Lime Tree Pantry make very traditional pies with British ingredients and hand-rolled pastry - very good pastry, in fact, fantastically short and crumbly. It's made with vegetable fats so it's more texture than flavour, which I readily forgive in a savoury pie at least: the filling is rich and delicious, so if whatever kind of fat they're substituting for lard works better for the production, storage, freezing, transporting process, fair enough. It also means they can market their vegetable and fruit pies as vegetarian. I haven't tried the fruit so I'm not going to comment on the lack of butter... The filling was 38% game - venison, pheasant, partridge, rabbit, and hare - you know, I obviously didn't read the ingredients that closely before I bought it. 38% doesn't seem very much on the face of it (though I didn't notice any stinginess of filling at all on the plate) and wild hare wouldn't be my first choice of dinner as they're in decline... But what can you do, I supported a small business making delicious, locally-sourced food: not every meal can tick every box, I guess. And it really was tasty.
Friday 10th March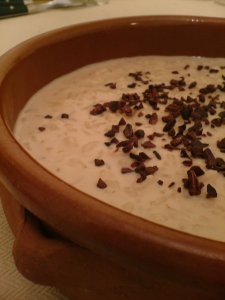 Thank goodness for Sugar High Friday, shaking me into actually thinking about what I cook on a Friday night. And this might just be the most locally-hosted round yet: Andrew of Spittoon Extra (and Original, of course) is, in blogging terms at least, practically next door. He it was who chose the excellent dairy theme for SHF: simple, broad, slightly subversive (lotta pancakes got eaten last week... no-one actually cutting out butter and cream, though, hmmm?) but showing a sound recognition that for goodness' sake, what else are you going to make dessert from in March?
My take on it is rice pudding. Not my favourite, I admit, but arguably more comforting on a rainy night than the smooth cold creamy desserts that I'd normally pass it up for. I find it carries other flavours well, and have also had some success with a mango and cardamom version, served cold after an Indian meal. I like to add some textural contrast, for instance with slivered pistachios, toasted almonds, or as here, cocoa nibs. The dark, dark, chocolate gives three contrasts for the price of one: crunch against softness... bitterness against earthy sugar-hit... thoroughly grown-up finish to nursery classic.
Chestnut rice pudding with cocoa nibs
1/2 cup arborio rice
tsp butter
tbs brandy
250ml creamy milk (or milk and single cream)
half tin sweetened chestnut purée
tbs cocoa nibs
Melt butter and toast rice; add brandy and cook off. Add milk/cream and reduce heat. Simmer for half an hour, stirring frequently, until rice is completely soft (well the other side of al dente). Remove from heat and stir in chestnut purée. Garnish with cocoa nibs before serving.
Thursday 2nd March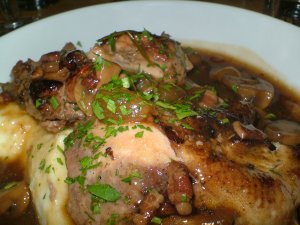 The Chocolate Menier Factory is a theatre on Southwark Street, SE1, with a cute little bistro-style restaurant attached. The theatre is cosy and quirky, with an interesting programme and banquette seating - good for getting to know your companion well, or a complete stranger for that matter... the show we saw (Sunday in the Park with George) was sold out and as members of the audience continued to arrive right up to the last minute a nice lady from New Zealand came out and told us politely but firmly to squeeze up. The restaurant is intimate in a more subtle way, through the use of candlelight, film stills and chatty staff rather than enforced proximity. Before shows a short set menu is all that's available, at a lower price for ticket holders; this is vaguely themed towards that night's production, so we benefitted from classic french bistro fare: paté de campagne with prunes; onion soup; coq au vin; crème caramel. These were good, especially the casserole, served with garlicky mashed potato. For my money the standard menu is less interesting - a pasta, a salad, a steak, a fish, lots of 'up-market' burgers, frankly a menu you could find anywhere in London - but I imagine the execution is equally good, so I'd give it a chance. After all, it's not every day you get to sit in a candlelit chocolate factory.