Tuesday 29th November
Just a quickie: Cambridge readers will be familiar with the Kingston Arms - a smallish pub not far from the station (it's ok, it's before the bridge... not actually in the furthest wilderness!) Those who know better than I rate the real ales; geeks, compscis and other addicts gravitate to the free-with-a-drink internet terminals and wifi hotness; and anyone who has just spent an hour fruitlessly searching furniture warehouses in the (what passes in the South for) snow will appreciate a roaring fire and a sausage sarnie. Good porky bangers and sweet slippery onions on white, does what it says on the tin. Wee bit astonished by having to wait fifty minutes for said sandwich on a weekday lunchtime (my companions were having slightly less quickly banged-together food, but not much) but I suppose it's preferable to being turned over and out into the cold in half an hour.
Wednesday 23rd November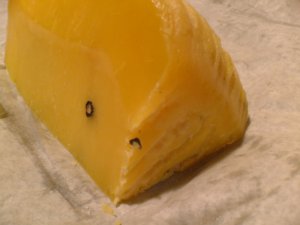 We picked this unusual cheese up on a little stall at Spitalfields market. The market has lots of funky stuff on a Sunday, and tucked into one corner there are some interesting food stalls - organic veg, home made cakes and the like. This one was selling Sicilian cheese and meats, of which I tried a few before settling on this sheep's milk cheese flavoured with saffron and black pepper. Yes, I broke my rule against flavoured cheese - but I'm glad I did just this once (after all, it doesn't follow that christmas pudding-flavoured stilton, and similar abominations, need ever enter my fridge). This variety does seem to be traditional (cursory research suggests it might be the cheese called piacentinu ennese - from Enna). The flavour of the saffron was quite distinct, but not overpowering. The stallholder suggested that we tried combining it with fennel, so we nibbled alternately on the cheese and on slices of raw fennel - and whaddya know, the expert knew what he was talking about: the two flavours - and textures - enhanced each other amazingly well.
Monday 21st November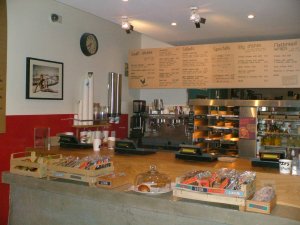 Phew! We are safely moved in at last, kitchen fully equipped and ready to go, so normal service can be resumed. Let me ease in gently with a rave review of a place that has a couple of times saved our lives during a grim day on Oxford Street (it's really too close to Christmas to expect shopping for things you actually need to be anything but hellish). Leon is on Carnaby Street, and is hardly new news: there's a Conran involved, and it's had good publicity and plenty of it over the last year. But I couldn't be happier to second every flattering word. They serve fast food that you'd want to eat: fresh, traceable ingredients knocked up into straightforward wholesome meals (grilled chicken, meatballs, falafels) and beautifully presented in chic cardboard containers. For a fiver you can add rice and seasonal coleslaw (presently ruby red cabbage with apple and raisins). They even have a licence, so you can have a beer or a pitcher of wine to make things really civilised. The short menus change seasonally, but there's also a special, so our repeated trips haven't been remotely repetitive - 'herby soup' was simple but original and tasty, with chickpeas, sweet caramelised onions and chunks of feta in the broth. Finish with a squidgy brownie or a Valrhona hot chocolate, and plunge back into the crowds in a considerably better humour.
Tuesday 1st November
I'm not totally convinced by this. I was trying to recreate the delicious soup C had at the restaurant in St Guilhem in September, when the combination of buttery carrot soup with plump langoustines really enthused me. My version was good, but not stellar. The soup was good and rich, loaded with butter, wine, cream and garlic, and based on a prawn-shell stock, but it was very much a domestic weeknight soup, not a restaurant one. I didn't strain it and I didn't chill it - both would have been good ideas. I did use saffron, which had been our guess at the St Guilhem secret ingredient, but I'd left it too long - my memory had faded and although I felt I hadn't quite got it, I couldn't tell why not.
Wednesday 26th October
Birthday cake
My general uselessness around here recently includes constantly forgetting to photograph things. I blame the new house - there's only room for so much domesticity in my lickle brain, and currently I'm more concerned with finding somewhere to keep the food than with recording it for posterity. But I did make myself a birthday cake, and I rather liked it, so here is the recipe.
115g butter
100g caster sugar
3 eggs
250ml plain yoghurt
180g plain flour
20g cocoa powder
1 1/2 tsp baking powder
1/2 tsp bicarbonate of soda
250ml creme de pruneaux (you can substitute your own prune puree by soaking 100g prunes overnight, simmering for an hour in sugar syrup, and pureeing finely in a blender)
50g muscavado sugar
100g hazelnuts, chopped and toasted
Cream butter and sugar until pale and fluffy. Add eggs and yoghurt and mix thoroughly. Sift flour, cocoa, baking powder and bicarbonate of soda into wet ingredients and fold in. Add prune puree.
Spoon mixture into a greased 9 inch square cake tin and scatter brown sugar and hazelnuts over the top. Bake at 180 degrees for 50 minutes, or until a skewer inserted into the centre comes out clean. Cover with foil halfway through cooking if the top is browning too quickly.
Wednesday 19th October
The Eagle, Farringdon
I can't help feeling that to wake up on my birthday to a warm, sunny autumnal Saturday is a good sign. At the very least, it augurs well for lunch. The Eagle is well known as a venerable member of the first generation of gastropubs. It's small and popular - not least with Guardian hacks, who are based next door - so we arrived early, before they started serving lunch at 12.30, and were glad we had. By the time the blackboards went up the room was buzzing, and on the stroke of half past there was a surge for the bar. The menu is confidently short: three starters/light lunches, three mains. Dessert is their signature custard tart, or cheese. The food arrived with a satisfying lack of ceremony. A fish broth was delicately lemony, with generous pieces of gurnard (though one of them was significantly under-filleted, breaking Pertelote's Second Law: a dish served to be eaten with a spoon should contain only edible components). Boquerones, or marinated anchovies, were fantastically sharp, their kick enhanced by a good scattering of chilli. Mains were even better: stew of pork belly and shoulder, and grilled skate. The skate was of a tenderness to bely its vast size, and served with purple sprouting broccoli (still the world's trendiest veg? I'm not sure; beetroot seems to be having a bit of a moment) and a dollop of aioli so huge I suspected for a moment I was still wearing my Birthday Girl badge. Yes, huge was a bit of a theme. You ordered mayonnaise? You're going to get mayonnaise - not as a sachet-sized garnish, but as a real component of the dish. The stew was swimming with similar gigantic butter beans, and contained hulks of belly, shoulder and sausage so richly gelatinous that a thin crust formed between one mouthful and the next. Never have I had beans that had so surrendered to the flavour of their sauce. Finally, of course, one custard tart, or more properly pasteis de nata, because this was the real Portuguese: rustic, caramelised pastry holding custard 'as soft and voluptuous as an 18th century courtesan's inner thigh' - as Nigella once put it. The Eagle is about as far from an eighteenth century court as it could be, thank goodness - its genius is that it is simultaneously a million miles from the grotty, slapdash, furcoat-and-no-knickers of the 21st century gastropub.
Monday 17th October
St John, Smithfield
What don't you eat? I bet there's something. The most adventurous, been-there foodies among us have their private dis-preferences: things that make us go uuurgh. Following conversation with an elite bunch of bloggers last week, I happen to be in possession of this knowledge on a few of them. No, I'm not telling. Tim of Fire and Knives claimed that statistically women are turned off by strong smells and flavours, men by odd textures - sadly by that reckoning I'm as unfeminine as I can be, because it's memories of jelly and gristle and lumpy mash that bring me out in a cold sweat, rather than liquorice, marmite and game.
Slightly different is the food you don't like yet. It may be something you're a little embarrassed about, some delicacy that you know all the hip kids on the blogging circuit are raving about, but which just makes you shudder, a little. Say you're the main cook in your family (and we are, aren't we?) - are you really going to foist on your nervous dining companions something you're not sure you really want to eat yourself? If you've never tasted it - and assuming it's something a little recherché - it's too much effort to educate yourself on how to shop for it, prepare it, and talk it up. And speaking personally, you have to have at least a couple of dinner reservations lined up in your future before you risk 'sacrificing' one of those rare and expensive treats by ordering That - rather than the dish that leapt out at you first, dripping with your known favourite components. Well, take it from me, eating with foodies will cure you of this hesitation. Someone round the table will have eaten it before, whatever it is, and will love it and talk you into it. And hell, if it's not great, there's everyone else's dinner to try, and likely several more courses on the way. This strategy really comes into its own at St John - my new most favouritist place to eat, In The World, Ever. The list of things I ate for the first time last week brings joy to my heart: Eccles cake with Lancashire. Snails (ok, I'm slow). Razor clams. Cuttlefish. Wild duck. Veal tongue. And oh, lordy, bone marrow on toast. Don't let me drop dead just yet: eating foie gras to the sound of trumpets is going to be a serious let down.
Wednesday 12th October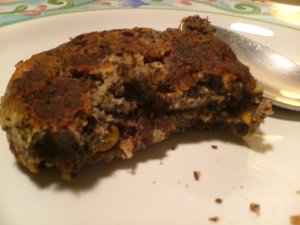 The clever twist on this second round of Euro blogging By Post was the challenge to the recipient to cook something using a neglected ingredient from the sender's store cupboard. Angelika kindly and cleverly linked her ingredient to the rest of the parcel's contents, sending me: poppy seeds! Well, I knew what to do with those. I could make something I love as much for its back story as anything - Honey Cakes Laced With Soporific Drugs. It's a bit of an in joke, where "in" means "not remotely comprehensible to anyone but us, and not really funny even to us". Briefly, HCLWSD are the archetypal Roman food - useful for toga parties, screenings of Satyricon, post-Latin-exam celebrations, etc. How do I know this? Proper research via, say, Apicius? Not a bit of it. It's what Aeneas fed to Cerberus on the way to hell: melle soporatam et medicatis frugibus offam [Aeneid VI, l.420]. So now you know. Yes, that's it. Well, I did warn you...
Honey Cakes Laced With Soporific Drugs
150g dates, chopped
100g pistachios, chopped roughly
30g butter, melted
30g whole or ground poppy seeds
60g plain flour
1 tbs honey
Mix everything together into a firm, sticky paste. Shape into small patties - this amount makes six to eight. Fry for three to four minutes per side in butter. Serve with greek yoghurt and more honey drizzled over the top. Not really good for dogs, three-headed or otherwise.
Friday 7th October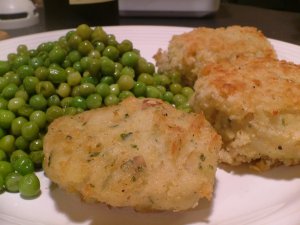 The other weekend there was a French market at Covent Garden. It was organised by the tourist board of the Lot Valley, who had brought over a good number of traders selling french foods - mainly easily transportable stuff, so lots of wine, preserves and paté, but also some cheese, crafts and so on. The cheese didn't look very exciting (it was the last day of the fair), but I bought some crème de pruneaux, a tin of cassoulet, and a few things from a traiteur-like stall representing the Hotel-Restaurant Carrier. I knew that thick slices of pounti - the Auvergnais terrine of pork and prunes - would make a lovely winter supper with a very cheesy aligot. And I couldn't resist a large tub of estofinade, a sort of stockfish puree which was advertised as being similar to brandade. Well, I know and love brandade, which is made from salt cod, and this wasn't really very similar. Brandade is light and creamy - it does (or can) contain potatoes, but I think in a lower proportion than the estofinade, which I can only describe as fishy mash. As such it was very good, with a balanced fishy flavour and floury texture; but it didn't seem appropriate to serve it as a dip or salad as I would brandade. A loaf of stale bread inspired me to shape it into patties, coat with breadcrumbs and fry: perfect fishcakes. They held their shape well (an egg was listed in the ingredients) and were just right in every way. Not an exciting way to handle such a rarely-obtainable item, so I can't imagine I'll do this again, but not a bad way to rescue a slight disappointment.
Wednesday 5th October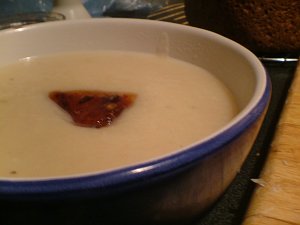 This soup is as faithful a recreation as I could manage of one I ate at The Peasant back in the spring. It's very smooth and as warming as you'd hope. What lifts it out of the ordinary is a spoonful of smoked chilli jelly slipped in before serving - it tends to sink under the surface, where it slowly dissolves, giving a sweet, toasty kick. The jelly is by Belazu, an excellent source of Mediterranean ingredients from olives and olive oil to harissa and pickled lemons. Their outlets include the posher large supermarkets and many delicatessens.
Peasant Soup - serves two on a cold night
One onion, finely chopped
Two rashers of bacon, finely chopped
One clove of garlic, finely chopped
1tsp cumin seeds
One small cauliflower, broken into small florets
One large potato, roughly diced
700ml vegetable or chicken stock (from a cube is fine)
Two generous teaspoons of smoked chilli jelly
Sweat the onion and bacon in a little olive oil. Add the cumin seeds and garlic once the bacon is opaque. Fry for a couple of minutes, then add the potato and cauliflower. Put a lid on, turn the heat to minimum and leave to sweat while you get the stock ready. Add stock, bring to the boil and simmer for fifteen minutes until potato is soft. Blend thoroughly with a handheld blender until quite smooth. Serve with a spoonful of smoked chilli jelly.
Monday 3rd October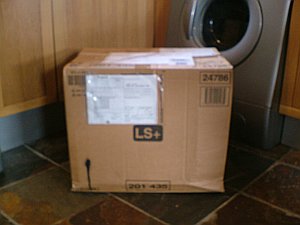 Oh my. Mine's bigger than yours, hmmm? This Euro Blogging By Post beauty arrived over the weekend, all the way from Austria courtesy of The flying Apple. And it's as abundantly generous as it looks, too. Opening it with about as much mature restraint as a six year old on Christmas morning, I was greeted by a lovely citrussy, cakey fragrance: Angelika had baked me a Guglhupf, a luxuriously heavy and moist poppy seed pound cake. Nestled in one corner, a jar of grand cru, single estate(!) apricot jam from the famous Staud's of Vienna; opposite, two intriguing bars of chocolate from another Viennese star, Zotter's. Cherry and poppy seed was deliciously sweet and sour (and - oops! - all gone...); coffee and mustard is an adventure yet to be embarked upon...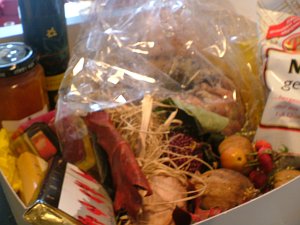 Then a packet of poppy seeds (is a theme emerging yet?) from Angelika's store cupboard. I must now use them in a recipe - my little mind is buzzing about trying to think of one that recreates the wonderful cherry/poppy seed/chocolate/marzipan combination. And as soon as I've done that, I'll be experimenting with the poppy seed and pumpkin seed oils that Angelika also managed to squeeze in - what a cunning way to keep me interested in salads despite the turning season! Even the presentation of the package was immaculate, garnished with an autumnal flourish of scarlet leaves and poppy heads. So, altogether lovely: thank you, Mrs Apple! Be sure to check the round up at Spittoon. Wonder whether my package has arrived yet...