Saturday 24th February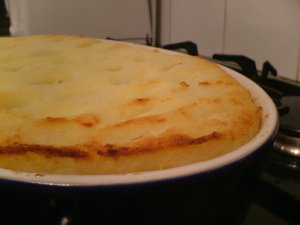 This was entirely accidental. I'd hardly thought about what kind of pie to make for this month's Waiter, There's Something in my Pie! before hostess Jeanne of Cook Sister! fame, and Xochitl (who Cooks) came round with their respective spouses last weekend to taste the wines we'd shortlisted for our wedding reception. So as not to spoil the surprise for any of our guests, let's just say we were very impressed with the wines from St John's list, and found some spot-on matches to my very approximate attempt at St John's menu. Of course conversation touched on the latest must-do event, and we ran over the rules again: a covered pie, whether the cover be pastry, polenta, potato or pizza crust.
Put it down to the seven bottles (divide by seven people and seven hours and it doesn't sound so bad), but when the next day I came to throw the leftovers together with store cupboard ingredients to make a quick supper, the connection never entered my mind: until the husband-to-be, when called to the table, walked into the kitchen and exclaimed "Pie!" Bingo. Yes, if fish pie is pie and shepherd's pie is pie, then this is too. It's simpler than either but by using leftovers and pre-cooked ingredients, you get fantastic strength of flavour with no extra effort.
Mackerel and shallot pie
Leftover roasted shallots, about ten to twelve, peeled and roughly chopped. You could roast them freshly for this, but it takes about 45 minutes.
One packet, about 200g, smoked mackerel.
Leftover boiled potatoes, probably the equivalent of two large potatoes - again, you could boil them now, if you're that excited about making pie. Give them 15 minutes in boiling salted water.
Large tablespoon crème fraîche
10g butter
Break up fish and mix with shallots over the base of an ovenproof dish. Mash potatoes with crème fraîche and spread over fish. Dot top with butter and bake for 40 minutes until piping hot.