Saturday 30th April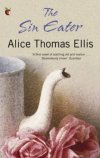 This (Alice Thomas Ellis' The Sin Eater) is much more like my idea of a good foodie novel. Ok, it isn't really about food - but the woman at the centre of the plot is a wife and mother; hostess to a family reunion; and 'gentry' in a still-just-about traditional Welsh village. The kitchen is her HQ. The story takes place over only a few days, and every meal is detailed lovingly: but this is not for the sake of drool-inducing glamour - Rose's cooking is central to her character, especially as it highlights the fundamental differences between her and the other women in the book, to whom she is variously hostile. So the fierce, resentful housekeeper spoils her unpleasant grandson with 'something luscious and greasy with butter and sultanas'. The stuck-up sister-in-law, manouevered into preparing lunch, produces a meal 'very reminiscent of hotel food... the plaice had the limp and glistening aspect usual to English cookery'. In contrast, Rose is an instinctively good cook, rejoicing in high summer's abundance of fresh produce, bending her talent to her own ends: as when she quite deliberately serves a meal of perfect properness, so delicious that no-one can do other than sing her praises - but so rich and overabundant that it sabotages their plans for a cricket match. 'Sometimes she used her ingredients like a witch,' says the author, 'as social comment, to do mischief'. But my favourite passage is as she waits for her own children to come home, preparing their supper with the same care, but with pure love and ownership:
She had put fresh raspberries in little glass bowls decorated with damask rose petals, and washed nasturtium leaves and wild sorrel to put in their salad. Now she began to make their stew. She cut a long slice from a shoulder of lamb and chopped it into neat little squares. These she put to brown in some green-gold olive oil in a heavy pan. She quartered three green tomatoes and sliced three courgettes, adding a clove of garlic for its stomachic properties and its efficacy against evil. These she added to the oil and meat in the pan, together with a chopped green pepper. She stirred it once and put on the lid. Later she would drop in ten tiny new potatoes. Five each. Lastly she took some spinach leaves and a handful of watercress and minced them up finely, saving all the juice. At the last minute she would add this, and the whole thing would turn a marvellous faery green. With it she would serve bright buttered carrots. Sometimes she made them an episcopally gorgeous beetroot stew with rosy cubes of chicken and green peas, but green stew was their favourite.
Wednesday 27th April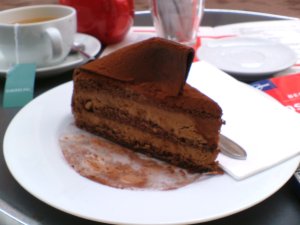 Amsterdam was lovely. The sun shone, we caught up with friends from all over Europe (and from down the road in London!), C put a small corner of the world to rights and I ate, ate, ate. We had a fantastic rijkstaffel the first night, which is sort of like Indonesian tapas - almost twenty different courses which are served all at once to be shared between everyone at the table. It was a good way to break the ice with a large group of people who mostly know each other only online... There's no menu or explanation of anything, so I don't remember everything, but there were three kinds of rice (plain boiled, spicy fried, and a delicious sticky rice cake). There was chicken, lamb, beef, fish and hard boiled eggs - either grilled, like kebabs, with dipping sauces, or cooked like curry in sauces of various levels of spiciness, many of variations on satay, the typical Indonesian peanut sauce which is served with everything in Amsterdam (much better than ketchup or even mayonnaise with chips). I particularly remember a curry of very tender slowed-cooked pork (I think) with a rich treacly sauce with cloves in. Then there are vegetables cooked in rice vinegar and layered salads of white cabbage, beansprouts, broken-up rice crackers and yet more peanuts. The restaurant is called 'de Kantjil en de Tijger', on Spuistraat, and it has a good lively atmosphere and very friendly staff (I can't think of many places in London which would have been so relaxed and smiley about serving sixty foreign geeks, even with a set menu).
You're quite right, this is a photograph of a slice of chocolate cake, not a traditional component of any rijkstaffel. But wouldn't you like to be sitting at a pavement cafe in Europe right now - not necessarily in Amsterdam, Paris would do nicely - with the sun shining and the rest of the afternoon stretching out ahead of you? Order a cup of tea and a slice of chocolate cake: light bittersweet sponge layered with creamy mousse, and topped with ganache. Flick through the guidebook and plan which food shop to visit, and the most picturesque way to stroll there. There's no rush.
Friday 23rd April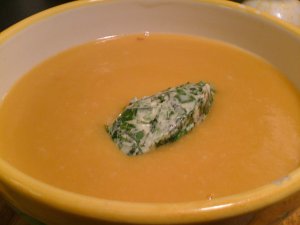 Posting a little early for this month's Is My Blog Burning?, hosted by Foodgoat, as we're off to the Amsterdam Lisp Meet for the weekend.
I really enjoyed the challenge of this month's theme: orange - the colour, not the fruit. Such a visual theme, why not let my eyes guide me? So I wandered around Borough market waiting for something orange to leap out at me from among the more muted greens and browns of the organic produce. I found pumpkin. No, I said to myself, pumpkin belongs to autumn, when you can roast the flesh with chilli and cinnamon to make a warm, comforting stew - and maybe set a candle in the hollowed out shell for Halloween. Who wants to eat pumpkin in April? But the thing about pumpkin is that it keeps really well. I bet our foremothers ate it in April - hauling the last one up from the cellar, trying to think of something different to do with it so it would tide them over just a few more days until the little sprouting green things in the vegetable patch were big enough to make a meal. (I don't garden. Can you tell?) So I challenged myself to make something springlike with pumpkin. And this is what I came up with.
Pumpkin soup with spring herb butter
450g muscadet pumpkin
1 onion
1 clove garlic
150g cooked butter beans
1/2 litre chicken stock
50g butter
3 tbs chopped fresh herbs (mint, parsley, chervil and wild garlic)
Chop pumpkin into one inch dice and sweat in olive oil with the onion and garlic for about half an hour until fairly soft. Add stock and beans, bring to the boil and simmer for another twenty minutes. Meanwhile soften the butter (twenty seconds in the microwave is enough if it is straight from the fridge) and add the herbs, with salt and pepper. Place in the fridge to firm up again. When the soup is ready, whizz it until smooth with an immersion blender. Scoop the butter into quenelles and serve the soup with one in the centre of each bowl.
Thursday 22nd April
Finally I found a Gordon Ramsay recipe on The Passionate Cook (one of my favourite food blogs, one which often inspires me to push myself, to go the extra mile for excellent ingredients or professional techniques). It's the Claridge's chicken pie - a simple enough dish of chicken in a sauce based on shallots, mushrooms, pancetta and thyme, with sherry and stock reduced to a thick rich gravy and further glammed up with cream and puffy golden pastry hats. So simple, not fancy or spicy or exotic. As you know but I sometimes need reminding, guests (especially old and dear friends) do not have the same criteria for a pleasant supper party as those we apply to ordering in restaurants: 'something I c/wouldn't have made at home'. Sometimes the first of the season's Jersey royals and English asparagus are luxury enough.
Wednesday 20th April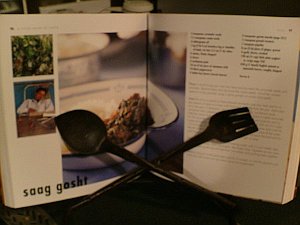 Second lot of obedient recipe-following was from a new cookbook. I know, I have enough (the shelf is literally falling off the wall under their weight) but I spotted a gap - a good, varied book of Indian recipes. I have one rather old Madhur Jaffrey book which is excellent but rather austere. This one, A little taste of India is beautifully illustrated (yes, sucker for a pretty picture) and I like the way it is divided up into different regions or styles of Indian cuisine. So there are chapters on the lavish, saffron-tinted food of the royal Moghul courts; the Southern coastal regions where spanking fresh seafood is cooked with green herbs, ginger and coconut; and the familiar 'curry-house' (actually Punjabi) dishes of tandoori, tikka masala and naan bread. Then there is a chapter on the thali - the particular way of serving a meal where you receive three or four dishes, all different, with salads, relishes, rice and chapati - with recipes which could also be used in a more western-friendly curry'n'rice context. Finally, instead of the familiar 'desserts and drinks' section, there is a chapter on tiffin, with yes, drinks (chai, lassi) and desserts - but also wonderful snack food, most of it savoury, much of it deep fried and hugely tempting - if not for tiffin, then as a starter, light lunch or canape.
My first plunge was saag gosht, a lamb curry with spinach. The idea was novel to me (in no way an expert) as I am used to eating spinach-rich side dishes, but cooking meat curries either simply of meat and sauce, or bulked out with a starchier vegetable. My one complaint about this book would be that although the introductions to each chapter are hugely interesting, there is no explanation at all for the individual recipes. So I don't know how typical this dish is or where it comes from. I do know that it had no chilli at all, reminding me that my automatic assumptions about the hotness of Indian food are only assumptions. There was some heat from pepper, cinnamon, ginger and paprika, but the flavours of the lamb and the spinach really sang.
Tuesday 19th April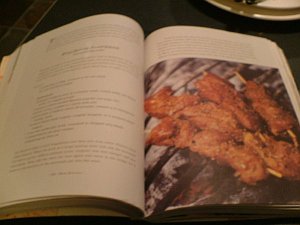 This week has been all about the cookbooks. Nothing very original has come out of my kitchen, but that's ok. There's nothing like putting yourself in the hands of an expert, perhaps with a critical eye on how they describe, instruct, advise and inspire. There are chefs, there are writers and there are teachers, and any one of those skills could take a lifetime to acquire. I don't know how Sam and Sam Clark of Moro share the cooking and the writing (not just between themselves but with the rest of their team) but the food is fantastic and the writing is lovely too. I made these Pinchitos morunas (Moorish skewers) - simply grilled pork, but in such a tasty marinade it really came alive. The marinade contained a roughly ground mixture of: fennel seeds; cumin; coriander seeds; sweet smoked paprika; garlic; saffron; oregano; sherry vinegar and olive oil. The pork stayed incredibly tender and I scaled it up to a main course by serving it with rice and houmous. I hope that lived up to the Clarks' aim for a Moro plate, that it should be 'balanced, complementary and culturally true'.
Wednesday 13th April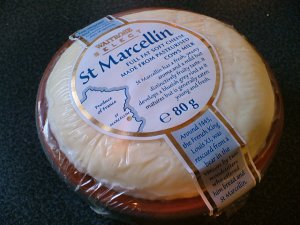 Risotto is a pretty regular standby chez Pertelote. When I have really good homemade stock, that's all it needs, but otherwise a bit more imagination is required. This combination of leek and St Marcellin cheese was particularly good - the cheese is a soft, rich one, made from cow's milk near Lyon. It ripens to be quite strong and runny (which is why you will usually find it sold in a little ceramic dish - which is why my cupboards are full of little ceramic dishes! Too little for desserts, in my opinion, but very useful for serving olives, etc). This one was only medium mature, which gave a nice lightness to the risotto as well as a creaminess which balanced very well with the fresh onioniness of the leeks. You could cook the leek separately if you are concerned about keeping its bright green colour - on the other hand this method makes no difference at all to the flavour and means one less pan to wash up!
Leek and St Marcellin Risotto
Two leeks
250g arborio rice
1 onion
1 clove garlic
1 stick celery
1 glass white wine
1 l stock
2/3 of a St Marcellin cheese
butter
Heat olive oil in a wide pan. Chop the onion, celery and garlic finely and soften in olive oil for ten minutes. Slice the leeks into thin rounds and add to the pan with a small knob of butter. Stir to coat with oil and butter and sweat with a lid on for five minutes while you measure out the rice and heat the stock. Remove the lid and add the rice, increasing the heat so that it toasts evenly. When it is glistening and sizzling, add a generous splosh of wine. That should be absorbed very quickly, so almost at once you can start adding the stock, a ladleful at a time, waiting until each is absorbed before adding the next. Relax and enjoy the risotto trance: slosh, stir, rest, stir, taste... slosh, stir, rest, stir, taste... Before you know it you will have a lovely creamy risotto, grains swollen and tender but with a tiny bit of bite in the centre. Check the seasoning and add the cheese: I'd say cut into small pieces, but it can be very soft so it might be more a question of small scoops. Serve immediately so that the cheese is still in luscious little pockets, melting gradually as you eat.
Tuesday 12th April
Chai pots de crème. This was Saucy's recipe of the day sometime last week, so you can find it at Leite's Culinaria. I love the idea - I cook Indian meals fairly often, but don't usually make an authentic Indian dessert as I find the ones I have tried were very sweet and sticky. A bowl of sorbet or better yet fresh mango is more to my taste. This takes a different direction, flavouring a very Western baked custard with tea and spices that tie it in to an Indian meal so that it is indeed reminiscent of the sweet milky chai drunk in the subcontinent. I wholly recommend it. I made a date and banana baked custard a couple of weeks ago, which was a little underwhelming; the custard was flavoured with saffron and cardamom, which tasted glorious just after infusing and straining, but muted to the point of being overpowered by the fruit after the custards had been chilled, even though we didn't eat them straight out of the fridge. (Question to scientists: is there any basis in fact for my perception that the fruit de-chilled more quickly than the custard, and so regained its flavour sooner?)
These chai cremes were much more successful - and of course the tea and spices can be adjusted endlessly depending how smoky or peppery you like your chai. Leite's is a treasure trove, it really is: I forget about it for months on end but whenever I'm reminded of it I find something really worthwhile.
Friday 8th April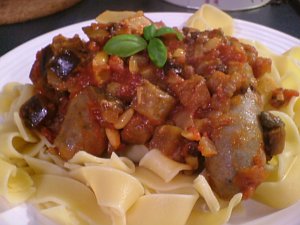 This was inspired by some 'Sicilian' sausages I found in Sainsburys. To be fair they were very nice, though I am no judge of whether a Sicilian would recognise them or not. Anyway this has that sweet and salty goodness - and would sicilianise even the most english banger.
Sicilian sausage sauce
6 sausages (good quality ones please, lots of pork)
1 tin tomatoes
1 onion
1 stick celery
1 aubergine
2 cloves garlic, crushed
tbs capers
handful each of raisins, pine nuts, basil leaves
A proper recipe would advise you to brown the sausages , drain the fat and set them aside. But I am not proper and that is not how I did it. I started as I start most things, by sweating the onions and celery with a little salt until soft. Then I added the roughly chopped aubergine and stirred it all round for about five minutes. Next I pushed all that over to the side of the pan to make room for the sausages, and turned the heat up to brown them lightly all over. Everytime I turned the sausages I also gave the veg a bit of a stir to make sure it wasn't overdoing. When I thought the sausages were nearly done I added the garlic. A couple more minutes (while I found the tin opener) and I added a splosh of red wine, the tomatoes, capers and bit of boiling water to almost cover the sausages. Heat down, simmer for half an hour or so, then add raisins and pine nuts. Finally serve over pappardelle or tagliatelle and scatter basil over the top.
Monday 4th April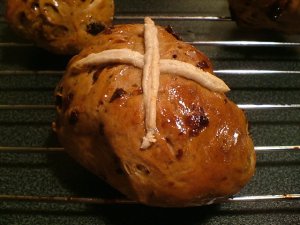 I'm playing catch up a bit here. Bank Holiday baking was hot cross buns. They were round when they went into the oven, promise! But they did fill the house with cinnamony goodness. Good Friday when I was a child involved shopping for (yes, not baking, I'm sorry) two hundred or so buns very early in the morning so that the whole congregation of our church could feast on them when they came in cold and often wet after the Ecumenical Act of Witness in the town square. Choristers such as myself and my little brothers were especially likely to be wet as cassocks are not noticeably waterproof. And by some lack of foresight (perhaps because we wore them outdoors for all of half an hour a year?) they do not have hoods. Come to think of it, we'd have looked pretty scary if they did. You may think Good Friday is not known as an occasion for feasting. Think again. We were Anglicans: any excuse for a party. GF meant hot cross buns (and believe me, buns between meals were not an everyday occurance); a slap-up tea (after yet more hours in church); and fish for dinner (a treat not a penance as far as I'm concerned).