Tuesday 15th August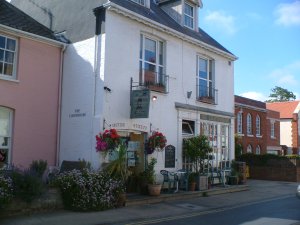 I've spent a bit of time in Suffolk recently, and I thought it might be useful to collect together the best bits, food-wise.
Potted shrimp at The Lighthouse in Aldeburgh: the restaurant is owned by Sara Fox, who also runs the cookery school across the road with Thane Prince. The menu is very slightly disappointing in a way I can't quite put my finger on - besides the fish, it doesn't quite seem to reflect the wonderful fresh produce of this area and this season. Still, stick to the fish and you'll have a fantastic meal.
Fish and chips from Mark's, on Southwold High Street. Absolutely perfect battered haddock with big squashy chips - exactly what you want to eat when you can see, hear and smell the sea.
Follow that with a pint of Pimms at the Lord Nelson down the road. Others swear by the Adnams beers but on a sunny day a cold glass of Pimms with plenty of salad in it (apples, cucumber, mint and borage are all possibilities) suits me nicely.
Fresh sea bream at the White Horse in Sibton - a funny little country pub, with hardly a village around it, and as different as can be from the 'pubs' (var. gastro) I eat in in London, but none the worse for that. Friendly staff who knew the menu, which was set daily according to what came in from the fishmongers. Big portions of that still spanking-fresh fish more than made up for the pub salad and bizarre balsamic potatoes on the side, and the summer pudding was absolutely text-book.
Air-dried beef and the most delicious fennel-marinated olives from Emmetts of Peasenhall, a wonderful delicatessen in one of those mysterious towns where everyone has clearly either inherited a lovely pile or retired from the City in their thirties. Hence a shop that would struggle in Cambridge and have lots of competition in West London manages to thrive on a ratio of roughly one flavour of olives per resident. The shopkeeper is as evangelical as deli owners always are: 'eat this!' was closely followed by a paper-thin slice of cecina de leon (that air-dried beef, from Northern Spain) wrapped around a soft slice of creamy sheep's cheese and dribbled with garlicky, fennelly oil from the olives. Heaven.
Frying bacon from Emmetts in the teeny kitchen of the mediaeval cottage we were renting from the Landmark Trust for the weekend. Dry, crisp, and piggy-tasting: with poached eggs, toast and coffee, there is no better way to face the day.
And taking it home: another trip to Emmetts, or the Orford smokery, or the Friday Street farm shop. Lord of the Hundreds cheese, oak smoked trout, beef, bacon, ham... or just-picked strawberries, to be eaten before you even get home.