Thursday 31st March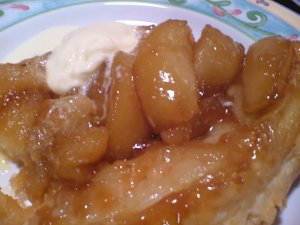 This, we like. Bookslut is always good value, if only because the site's omniverous tastes prod me out of whatever reading rut I'm currently in. But their new venture, Saucy, is a wonderful discovery - a collaborative webzine about FOOD, the contributors including many food bloggers whose writing I already knew and loved. A particular treat is the extra dose of Orangette, whose first contribution was this delicious article about tarte tatin. It's hard to choose just one quote, but "apples rest coyly atop their thousand-layered blanket like Ingres's Grande Odalisque on her chaise" is typical of her seductive prose. What could I do? Clearly this was a recipe I needed in my repertoire, couldn't go another day without, in fact. Reader, I baked it. There was a moment's panic when the caramel solidified into a twisty mess of toffee, but undaunted (and somewhat reassured by the knowledge that this was Easter Sunday, and there was enough chocolate in the house to provide adequate distraction if it all went wrong) I bunged it in the oven beside our rack of spring lamb, in the hope that the magic of baking would sort it out. It did, and we ate it with spoonfuls of thick, yellow Jersey cream.
Wednesday 30th March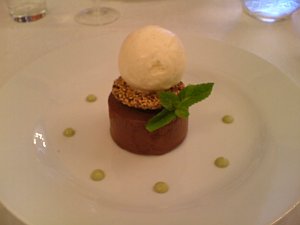 What a treat! C and I had six days off over Easter with very little to do except lie around and stuff ourselves with chocolate. We did heave ourselves up off the sofa one day to go to Cambridge. It was wet and miserable and we didn't in the end make it a grand day out (no punting) but it was lovely just to relax over a long lunch with friends.
We ate at Bruno's Brasserie on Mill Road, which is a great place and always surprisingly empty. In fact we were the only people there - this was Saturday lunchtime over the bank holiday weekend! The staff were great about it, adjusting the heating to our liking and so on (apparently the waitress had turned it up to dry her hair.) The lunch menu is sensibly short and well-balanced - they didn't divide starters and mains strictly, but listed about eight dishes of various sizes and prices. At the top of the list they were obvious starters (soup, for instance) and at the bottom obvious main courses, but there was a good spread in between. I ordered a salad of rare beef with Thai dressing which fell somewhere in the middle. The beef came in a generous heap of ragged slices, cooked just to melt-in-the-mouth tenderness, piled up on orange segments and a herby, lime-spiked salad.
My dessert was even more beautiful, as you can see. A round of very good, dark, chocolate mousse, on top of which was perched an imaginative tuille of caramel with sesame and poppy seeds, supporting a ball of excellent vanilla ice cream. The plate was decorated with spots of pistachio cream. I loved the colours and flavours - definitely ideas for the mental index here. (If I had one criticism, it was that between the column of mousse and the biscuit were three cherry halves, which I didn't think was really necessary: presumably they were intended to hold the tuille a little off the mousse, which might have had textural advantages if I had been going to look at it for any length of time before eating it! As I wasn't, they simply added a distracting fruity sweetness just as I was relishing the chocolate/pistachio/vanilla combination.) A very good place for a bit of a treat - if you still have parents taking you out to lunch in Cambridge once a term (oh, those were the days), get to it.
Thursday 24th March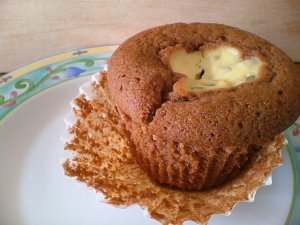 Is My Blog Burning? #13 is my second food blog meme in one week, and I'm starting to get the hang of it. Photo: check; link to host - that would be Maki of I was just really very hungry; recipe: scroll down, it's there. These are milk chocolate cupcakes with a passionfruit cheesecake filling. I knew the passionfruit/milk chocolate combination had a sound culinary genealogy - Pierre Hermé has used it, which is about as high a recommendation as I know. I liked the idea of a sweeter, milder chocolate cake than I normally make as a foil for the sharp-but-creamy filling. The cheescake element was just one of those flashes of inspiration - not from nowhere, of course, because passionfruit is a pretty classic cheesecake topping, and I knew the cheesecake/cupcake idea would work from gorging myself on my mother's raspberry cheesecake brownies. I'm quite pleased with the result - they aren't pretty pretty as fairy cakes go, but they are very very good. The textural contrasts (crunchy seeds, cold and fluffy cheesecake, light crumbly cake and crisp sugary top) make them a bit special. Many thanks, Maki!
125g butter
125g soft brown sugar
2 eggs
125g self raising flour
75g milk chocolate
2 tbs milk
100g cream cheese
25g sugar
1 egg
50ml double cream
3 passionfruit
Cream butter and sugar. Add the first two eggs, beating in until smooth. Sift in flour; melt chocolate and combine. Use up to 2tbs milk to get a nice smooth, 'dropping' - but not too thin - consistency.
Combine cheesecake ingredients with the pulp and seeds of the passionfruit. Fill cupcake cases with cake mix (mine were large, really muffin-sized, and these amounts made six neatly). Don't fill them more than three-quarters. Use a teaspoon to make a shallow well in the middle of each and dollop a spoonful of cheesecake mixture in. Bake at 200°C for 15-20 minutes (it's a bit hard to test for doneness as the cheesecake runs down the middle, but this is an advantage too: as long as they're cooked on the top, they're very unlikely to be underdone in the middle.)
Wednesday 23rd March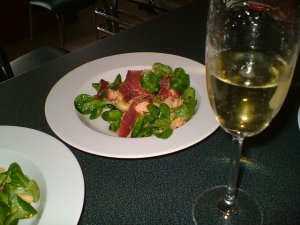 We did another big Sunday lunch last weekend - this time it was C's parents' turn to come over. Actually the menu turned out rather similar, in structure if not in content: salad starter (from the Independent again; that's two hits in a row from Mark Hix!), slow-cooked meat and starch, and chill-ahead dessert. Only difference is that the in-laws also get cheese (bien sur). It was a very Spanish (i.e Moro-ish) meal. The photo is of the salad, of course. It was very good, even though I deviated from the recipe by using just mache instead of the mix of salad leaves Mark suggests. The mojama was a revelation - tuna ham! It was hard to shave thin enough, so I hacked at it a bit and the larger shreds were probably a bit strong (it's very salty, like any cured meat). But the dressing was simple and classic and the nice subtle flavours of the mache and beans made the two types of tuna stand out beautifully.
Tuesday 22nd March
You can make a fairly decent toulouse-style duck casserole for two, from scratch, after work on a Friday - decent enough that you could get away with calling it cassoulet if your fellow diner isn't too pedantic - or too toulousain. The step you skip, of course, is confiting the duck, so the finished result is a little less tenderly, meltingly, unctuously wonderful: but all the flavours are there, and it certainly brings a certain je ne sais quoi to a genre which is frankly tired by this last week of the season.
After work cassouletish
two duck legs
four toulouse sausages
two tins of white beans (flageolet or cannelloni), drained
one tin chopped tomatoes
one onion
two cloves of garlic
tsp dried herbes de provence
thick slice stale bread
As soon as you get in from work, take the duck out of the fridge and brown it in an ovenproof casserole dish over a high heat. The portions should release some fat - leave that in the pan and set the legs aside while you brown the sausages. You can chop the onion while the bangers fry, and turn the oven on to preheat (about 170°C). Take the sausages out and put the onion it; turn the heat right down, add a pinch of salt and cover. Chop the sausages into chunks - about four pieces per sausage. Check the onion - it will brown very quickly in the duck fat and meat juices, but you want it to soften a bit, too. When it's done, add the roughly chopped garlic and return the duck and sausages pieces to the pan. Add the tomatoes and beans, a good teaspoon of herbes de provence and some water or stock so all the solids are covered. Cover, pop it in the oven and relax - time for a gin and tonic. After one hour check your stress levels. If they're still simmering, have another drink: you're making plenty of food and there's fruit in the fruitbowl if a one-course meal is anathema to your beloved. If on the other hand work is now a distant memory, spread the joy by whipping up a no-effort dessert (let your drinks cabinet be your guide: macerate some fruit in rum, whip cream with wine for syllabub, melt chocolate with cream and brandy to pour over ice-cream...). After a further three-quarters of an hour, the cassoulet should be ready to eat: you even have time to posh it up by doing a breadcrumb topping (whizz a thick slice of stale bread with garlic and more herbes), sprinkling it over the top and switching the oven to grill for a few minutes. Before the whizzing you might like to rouse your dining companion and make your wishes clear re the careful laying of the table, opening of a nice bordeaux, etc.
Monday 21st March
Well, I must accept that slapped wrist, I suppose, and try to cobble together a recipe for my poor old biscuits...
"...I took a standard cookie recipe..."
100g caster sugar
50g soft brown sugar
100g unsalted butter
1 egg
175g plain flour
1/2 tsp bicarbonate of soda
1/2 tsp salt
Cream butter and sugar, add egg, sift in dry ingredients.
"...and added stem ginger instead of chocolate chips, with a good dose of ground ginger as well..."
150g preserved stem ginger, chopped
1 tsp ground ginger, or more, to taste
Stir in to dough before dolloping on a baking sheet and cooking at 180°C for 15 mins.
"... my caramel had flecks of fresh red chilli suspended in it..."
100g caster sugar
one fresh red chilli, very finely chopped
1 tbs water
Heat sugar, water and chilli together slowly in a heavy pan. Don't be alarmed by the bubbles. When it turns into caramel (thick, golden), drizzle over biscuits and allow to set.
Friday 18th March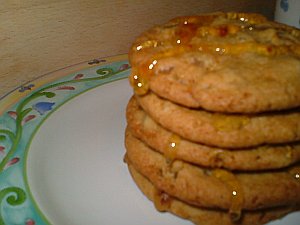 I'm very excited to be participating for the first time in Sugar High Friday - kindly hosted this month by Debbie at Words to Eat By. The theme is "Stuck on You: caramel" - how perfect is that? It's the apotheosis of the sugar high. Pure runny or chewy caramel is too sweet for me, but I can't get enough of it when it's cut with something - l'artisan du chocolat's salt caramels are just heaven. The other way it's so, so good is pushed just a bit towards burnt - a bit more - yes - oooh, that's it. A good dark caramel with an edge of bitterness - like the top of a crème brulée - is one of my very favourite ways to flavour ice cream. So did I make ice cream for SHF #6? No. Because I had something more pressing on the to-make stack: our friends the Doctors gave us some wonderful ginger and caramelized chilli biscuits when they last came to stay, and they were gone all too quickly. Could I reproduce them? I could. I took a standard cookie recipe and added stem ginger instead of chocolate chips, with a good dose of ground ginger as well. My caramel had flecks of fresh red chilli suspended in it as it was drizzled across the top. They baked up nice and chewy, which was wonderful that day - the few that were left didn't keep too well, though, as they get softer rather than crisper, and the caramel became simultaneously stickier and grainier. I'm not enough of a scientist to say why, though I'm guessing less moist biscuits would support the caramel better for longer. But I don't think I'd necessarily change anything next time - except perhaps to have more hungry mouths around to share the onerous task of eating the whole batch up while they're still in perfect condition.
Tuesday 15th March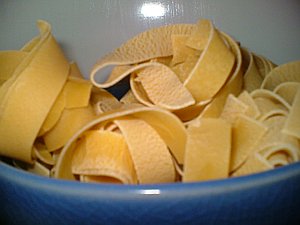 Altogether now: I think the loveliest time of the year is the spring. I do! Don't you? 'Course you do! The daffodils and crocuses have been peeping out for a while now, and the evenings getting slowly but steadily lighter - but it's been bitterly cold and even the odd sunny day was wintery. Yesterday there was a bit of genuine sparkle, a bit of freshness in the breeze - do I sound like an advert for fabric softener? It may not be Paris (it'll take more than one nice day for Londoners to cast a clout and lunch outside!) but if I may presume: le printemps est là, aussi. It was in this spirit (yes, you could call it whimsical) that I planned supper. Pappardelle, for some reason, always strikes me as more elegant than other kinds of pasta: a sort of eligible, sophisticated elder sister to sexy linguine and tomboy spaghetti. So it seemed the right sort of vehicle (if I might mix my metaphors a little) for a light, barely-cooked sauce of squeaky fresh new season garlic, sweet petits pois, toasted pine nuts, grated pecorino, young goat's cheese, good green olive oil and lots of basil. A bit like a deconstructed pesto plus.
Spring-is-here pasta
250g pappardelle
100g frozen petits pois
handful of pine nuts
50g pecorino, grated
75g fresh goat's cheese
half a head of new season garlic, chopped
Cook the pasta in salted boiling water according to instructions, adding the peas just before it is ready. Meanwhile, toast the pine nuts in a dry pan and set aside as soon as they are golden. Add oil to the pan and fry the garlic, watching very carefully to ensure it hardly colours at all. When the pasta and peas are ready, drain and return to a warm pan off the heat before stirring in the garlic, cheeses, pine nuts and a dribble of extra virgin olive oil. Turn it all over thoroughly to break up the cheese and distribute everything well. Finally tear lots and lots of basil over and serve with a nice dry wine.
Monday 14th March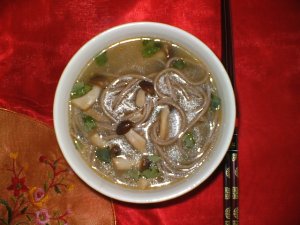 Mushroom noodle soup
One sheaf of soba noodles
700ml chicken stock, well skimmed (in other words, just this once you don't need the fat)
100g enokitake (Japanese mushrooms like these)
1 tsp grated ginger
1 tsp finely chopped lemongrass
(I make this even if I don't have fresh ginger and lemongrass - Barts do good jars of both, which I do always have in the fridge)
1 red chilli, seeded and chopped
Star anise - one or two stars
100ml sake
Nam pla
Groundnut and sesame oils
In one pan, simmer the chicken stock gently. Add the sake, ginger, lemongrass, star anise and chilli. After ten minutes, taste and add the nam pla to taste - that is, very gradually, tasting between each half teaspoon or so. How much you need will depend how salty your stock was. Once you are happy with the broth, leave it to simmer a little longer while you fry the mushrooms in the groundnut oil (to which you can add a few drops of sesame). It will save you washing up if you do this in another saucepan rather than in a frying pan, because the next thing you are going to do is strain the broth, and if you can't do it straight over the nushrooms you'll have to do it into another clean pan and then add the mushrooms with the noodles. The noodles only take a few minutes to soften - you will have to increase the boil and refer to the packet instructions (optional step: attempt to decipher Japanese instructions; curse, and bite a few until they seem ready.) Serve as soon as the noodles are ready, with some fresh coriander, or failing that, basil, torn over the top. Don't even try to eat this without slurping!
Sunday 13th March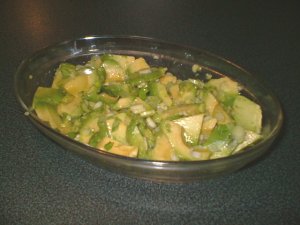 You're forgiving me these photos, aren't you? I know they're dreadful - but if I let myself hold them back until I'm happy with them, they'd never get this far. Still - the amateur has its charm, right? Inner Critic, hush!
So this is an avocado salsa I threw together to turn a leftover (reheated) half of pea and feta frittata into a pretty decent lunch. It's just three Haas avocados chopped chunkily, with a bunch of spring onions sliced quite finely. The dressing is the juice of half a lime with twice its volume of extra virgin olive oil, seasoning and a pinch of cayenne pepper, and there's a handful of torn-up basil leaves tossed in. I'm sure it looked more appetising in real life than it does here... it certainly tasted better.
Saturday 12th March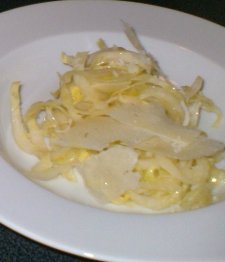 Here's our starter from The Lunch. The recipe looks as though I tore it out of the Independent, in which case credit is due to Mark Hix. It was a jackpot recipe - looks sophisticated, tastes sophisticated: requires no advanced skills whatsoever. It's all in the shopping; you can get white balsamic at Waitrose and in delis - it's very like the stuff you know in flavour, but of course it's aesthetically pleasing to have a pale dressing on this salad and keep everything bianco.
Insalata bianca
One head of chicory
One large bulb of fennel
one tbs white balsamic vinegar
four tbs extra virgin olive oil
80g mature pecorino

Trim the chicory and fennel and slice them very finely. You can discard the outer layer of each, the stems of the fennel and the hard 'core' of the chicory. You won't need the fronds of the fennel for this but I'm sure you can find a use for them elsewhere... Dress with oil and vinegar and a little salt, and shave the pecorino over the top. We had walnut bread with this, which perfect tastewise even if it was a few hundred miles out.
Friday 11th March
PS to that - there was a lot of liquid left over from the lamb shank stew, which was even better the next day. I skimmed the fat off and threw in a handful of pearl barley and it was one of the warmest and tastiest soups I've had all winter. The combination of the strong savoury lambiness of it and the slightly sweet flavourings, which include marsala and honey, with chilli and lots of other warming things, is complex and deeply satisfying.
Wednesday 9th March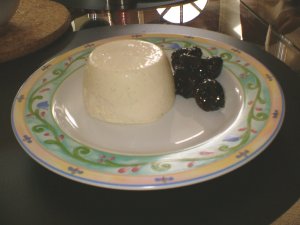 I made lunch for my parents (Mother and Dad) on Mothering Sunday. Funny how grown-up that makes me feel, writing it down, and what an adolescent klutz it made me feel, cooking it. I played it fairly safe with Nigella's lamb shank stew with chickpeas, followed by panna cotta. Jamie's was the first book I grabbed that had a recipe for four and it was an interesting one: after cooking half the cream with vanilla and dissolving the gelatin in it, he has you whip the rest of the cream with sugar and fold it in. It makes for a much lighter texture, of course, which everyone praised - so of course I'd sound like an utter pig if I now confessed that I like the smooth, luxurious feel of the traditional version better... On this occasion though, lightness did have its advantages. I'd made caramelised baby figs to go with the panna cotta and slightly overdone them: just enough, really, to emphasise that their sticky sweetness was never really going to be the right balance for the dish (I'd been thinking of that lovely dessert of figs with marscapone which Pizza Express does). It would have been much better to stick with the passionfruit coulis I usually do, for a bit of sharpness and an interesting textural contrast.
Tuesday 8th March
I can never resist a novel about food, but it's rare to find a truly good one - and I'm afraid this isn't it. The characters are flat - the protagonist in particular is like a pretty paper doll - which meant that I didn't care about her problems or believe in the resolution. The descriptive passages would be delightful in a cookbook, and the cakes are mouthwatering. With one exception she avoids the trap of the 'secret recipe' (that plot device common to this genre of a cake (or pie or pasta sauce or truffle filling) of such magical deliciousness that it transforms the frog into a prince, the wicked witch into a fairy godmother, and the critical mother-in-law/bitchy skinny girl/hard-headed business man into simpering good guys). But the writing is lacking in naturalness and inventiveness - I love to be brought up short by a sentence or an image, but I want it to be because I'm thinking "oh, yes, I never thought of it like that before" - not "ouch, no-one talks like that..." But hey, chacun à son gout: if you like Joanne Harris, you'll probably love it.
Ooops, correction: yes, sorry, of course the panchiporan aloo is in How to Eat. in the Christmas section of the Basics chapter. How many times have I read that book?
Thursday 3rd March
Panchiporan Aloo
I don't think this is in any of Nigella's books, it's from the Christmas special she did after the Nigella Bites series - I'll put the recipe in because I don't quite use her method, but the original is here. I love potatoes with Indian spices, it's so easy and such a nice contrast to a plate of 'saucy' curry and rice. I was a bit apprehensive about the wholeness of the spices and had to hold myself back from chucking them in the pestle and mortar, but actually if you keep the quantities small and toast them well it just gives a great bold flavour, subtly different in every bite.
two potatoes, cubed and par-boiled
1/2 teaspoon each of:
turmeric
chilli
fenugreek
nigella seeds
black mustard seeds
cumin
fennel

Toast all the spices except the turmeric for a few minutes in vegetable oil, then add the potatoes and turmeric. Stir-fry for a few minutes more.