Friday 23rd December
What fun to get out from under the cardboard boxes, not even to face the desperate crowds of Christmas shoppers, but instead to find refuge in the warm, serene and beautiful home of Johanna, the Passionate Cook, where lunch is quietly bubbling on the stove, boxes of homemade cookies are stacked three-deep, and one by one the foodbloggers assemble. What a pleasure to see Celia again, and to meet Martina, Joanna, Zabeena, Melissa and her friend Wampe. A very cosmopolitan mix, as usual, and as evidenced by the wonderful array of cookies contributed. As perhaps the least travelled, least linguistically/culturally gifted of the group, I puzzled over the Christmas = cookies assumption of the invitation - if the English ever had this lovely tradition, it hasn't reached me - but in the end decided two things. Firstly, there were enough expert cookie makers in the group to meet anyone's cravings for sweet, spicy, germanic treats. Secondly, to me Christmas means parties, and parties mean nibbles. So I made cheese stars. To me, that's Christmassy!
Cheese Stars
85g unsalted butter
175g plain flour
110g mature cheddar, grated finely
1tsp celery salt
1 egg yolk
1tsp dijon mustard
Rub the butter into the flour. Stir in the cheese and salt. Mix the egg yolk with the mustard and three tablespoons of cold water. Add this to the butter and flour and bring it all together into a firm dough (you may need to add a tiny bit more water). Clump the dough together, wrap and chill for at least 30 minutes.
Preheat the oven to Gas 5; roll out the dough very thinly and cut into biscuits with a small star-shaped cutter - should make several dozen. Cook in batches for 10-12 minutes.
Thursday 22nd December
This apparently back-to-front method of making chicken soup originated in indecision (must get supper started... but what shall we have?) but I like the result. Without hours of preparation, you can have an intensely meaty and mildly spiced soup - feel it doing you good.
Orange chicken soup
Up to four chicken thighs, depending on size
2 medium potatoes, peeled and diced
150g red lentils
1/2 onion, diced
1 clove of garlic, crushed or chopped
tsp ground cumin
tsp turmeric
1 orange
Poach the chicken in plenty of salted water for twenty minutes, skimming occasionally. Remove with a slotted spoon and add the lentils and potatoes to the water. They will take another twenty minutes to soften: meanwhile shred the chicken off the bones into fairly small pieces. Fry the onion and when it begins to soften, add the garlic, cumin and turmeric. Once the lentils and potatoes are soft, add the chicken and onion to them and squeeze in orange juice to taste.
Friday 16th December
You know when things don't quite turn out the way you expected, and you shrug your shoulders and think well, chalk it up to experience: luckily this time it didn't matter, and I think I know what to do differently next time...? We've all had those moments. But just sometimes, as you're shrugging your shoulders and nibbling at the corner of your 'disaster' - a cake that hasn't risen properly, perhaps, biscuits that are definitely scorched around the edges - you can't help the guilty thought creeping into your mind, 'but I like it this way!' There's a secret joy in the stickily undercooked, the voluptuously overrisen, the densely misproportioned and the frankly burnt that only those entitled to 'cook's perks' will ever know. I had one of these epiphanies when we tried to make potato bread. Answering the question 'what shall I do with this leftover mash?' with an airy 'oh, perhaps I'll make bread with it' (this being on the list of Things To Try), I didn't actually expect to come home the next day to a happily steaming breadmaker full of, erm, mashed potato. It turned out with a squelch: a brick of dense, moist dough, crusty at the edges but like plasticine in the middle. Apparently substituting mashed potato for the same volume of flour isn't the way to make potato bread. Who'dda thunk? BUT it was yummy - nicely squidgy, like a savoury brownie. So the ducks didn't get to eat it after all (just as well, it would probably have exploded them. Hurrah for the iron-plated human stomach...)
Saturday 10th December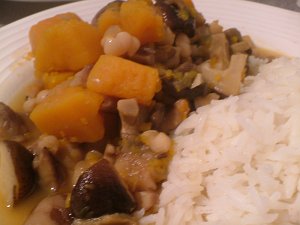 The great Lulu 'olive' Grimes, no less, has told me how difficult it is to choose attractive photographs for the November issue of the magazine because all the recipes for lovely warming casseroles are so brown. So I'm not too embarrassed by this. In fact I was very pleased with this casserole, which achieved a good depth of savoury flavour, thanks to the porcini, despite the absence of meat.
Winter squash, chestnut and porcini casserole
Vegetable stock powder
Four-five slices dried porcini
One onion, chopped
Two cloves of garlic, chopped
One butternut squash or similar
150g chestnut mushrooms
100g shiitake or other interesting mushrooms
100ml marsala
300g cooked and peeled chestnuts
400g tin of beans (flageolet/cannellini), rinsed and drained
Make up one litre of vegetable stock, adding dried porcini, and leave to soak. Fry the onion and garlic until soft; add squash and mushrooms and sweat for ten minutes. Fish porcini out of stock and chop finely; add to pan. Turn up heat and add marsala, sizzle for a couple of minutes and add stock. Bring to the boil, cover and simmer on a low heat for half an hour. After half an hour, add beans and chestnuts and cook with the lid off for another fifteen minutes.
Thursday 1st December
Mostly, C and I see eye-to-eye - but of course each of us has a foible or two. He doesn't like pumpkin, Christmas, or woolly jumpers: three things without which I'd find it very hard to get through the winter. And he doesn't like the colour green. This is odd, to me: disliking any colour is odd to me, but nice, calming, subtle, leafy, back-to-nature green? Weirdo. Now I'm not saying he's extreme about this - in fact it had never really come up until we bought a house and started to try to furnish it. All I'm trying to say here is that I think this broccoli soup is a really nice colour... sort of mossy and dull, an interesting, age-well, autumnal green. I can live without green walls. I'll just eat more green food.
Broccoli soup
Everything in the veg drawer, the kitchen sink, and triple helpings of broccoli. Cook in vegetable stock with a parmesan rind until tender and vibrate - remove the parmesan rind first if there's anything left of it (supermarket ones tend to dissolve completely). Serve with slices of goat's cheese and soda bread on the side.