Friday 30th September
I've been tagged for the Childhood Food Memories meme that's going around the food blogging world like chicken pox in a nursery class. Being on the tail end of this, I'm not going to tag anyone else, but it's only good manners to link to those who came before me:
I have some childhood food memories sitting on my about page, so perhaps this is the time to expand on a few. I should say that my mother did all the cooking, as well as working part-time (and being involved in many, many voluntary activities in the town), and there were three of us whiny, fussy kids. We ate omelettes (cooked on both sides, no runny centre) and toast and marmite for supper nearly every day - because that was what we would eat. One brother wouldn't eat dairy. Another couldn't bear onions. I was the worst, I confess: my list of 'safe' foods varied from year to year, but was never long. Cheese sandwiches. Raw carrot. Fish fingers, sometimes. Virtually nothing provided by my primary school canteen - Mother stuck out the letters home for six years, until at eleven I could be trusted to make my own packed lunch. I had to write up menus to show her that I would eat healthily - not just cheese sandwiches... Those lunches are a poignant memory. There were some odd sandwich fillings on non-cheese days (well I wouldn't eat ham, you see. Or egg, or fish, or tomatoes, or paté). There was always a frozen fruit drink in a foil pouch, always an apple, often an oppressively healthy cereal bar (carob! urgh!).
Interestingly (well, to me in this nostalgic introspective mood, anyway), I disliked meat unless it was white, smooth and absolutely lean (I still have to remind myself that fat, skin etc I used to hate are actually the most delicious parts) and I didn't really eat potatoes in any form - BUT I would eat Mother's 'mince and potatoes', which was really just that: floury potatoes chopped up small and boiled in gravy with minced beef, onions and carrots - probably because I'd been virtually weaned on it, as she - and, I suspect, my Irish grandmother - had been.
It doesn't sound like the kind of childhood to produce an obsessive cook/diner, does it? But at some point I discovered baking, which I think is the way a lot of children come to the kitchen. And then in my early teens my grandfather fell ill and Mother spent long days driving to and from the hospital - at which point I became responsible for feeding myself and my brothers, at first reheating or following careful instructions, gradually becoming more confident. Nigel Slater became a constant companion, and by the time I was old enough to be left alone for a whole weekend, I was happy preparing meals for friends - even cheerfully handling raw meat, though I was still a ferocious trimmer. Et voìla, the happy cook you see before you today. Anyway, here's the recipe for the first biscuits I ever made:
Ginger cookies from childhood
4oz butter or margerine
1 dessertspoon golden syrup
3oz demerara sugar
4oz self-raising flour
4 oz porridge oats
1tsp ground ginger
pinch of salt
Heat oven to 170C. Grease and line two baking sheets.
Gently melt margarine/butter, heating with the syrup and sugar in a saucepan. Sift flour and add the oats, ginger and salt. Pour the melted butter into the dry ingredients and mix very thoroughly.
When all combined, take smallish blobs and roll them into little balls. Place these on the baking sheets, spacing to allow for expansion - it will make around 20. Flatten them a little.
Bake for 10 to 15 minutes until golden brown. Remove from oven and cool on the tray for 15 minutes, then place on a cooling rack to crisp up.
Monday 26th September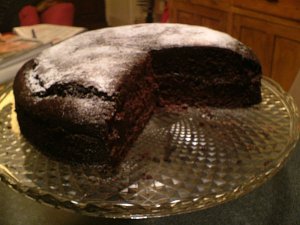 Time for another Is My Blog Burning? - and a particularly interesting one, as you might expect from Becks and Posh. We're cooking vegan! Secretly! Vegan meals aren't _that_ unusual chez nous - we only eat meat about every other day, if that, and once you look outside Europe it's perfectly easy to wean yourself of the notion that you must replace meat with cheese or eggs. I'm currently loving Alastair Hendy's stunning Asia, so as long as I steer away from the fish sauce, it's veggie today and veggie tomorrow. But the point of IMBB is to think outside the box, as they say, so I decided to turn my hand to a spot of vegan baking. I was determined, though, not to fake it: no 'substitute' products.
Torta di cioccolata alla Margherita
This is Giorgio Locatelli's recipe for a chocolate cake without eggs or dairy. Margherita is his little girl, who suffers from a number of allergies - hence the special cake. I liked the cake very much; it comes out dense, reasonably moist and very chocolatey, so it is well worth using a good cocoa powder like Green and Black's. Locatelli doesn't suggest a dairy free filling/icing, so I improvised one by mixing some melted dark chocolate (no dairy or animal fats) with sweetened chestnut purée. It might have been better to use the chestnut on its own, as a contrast to the dark chocolate cake. Oh, and my unsuspecting taster thought this was a good, but not stunning, standard chocolate cake.
450g plain flour
6 tbsp unsweetened cocoa powder
2 tsp baking powder
2 tsp bicarbonate of soda
300g caster sugar
125ml vegetable oil
300ml water
2 tbsp distilled white vinegar
2 tsp vanilla extract
Sift all dry ingredients together; mix wet ingredients and add. Beat until smooth. Pour into an oiled 23cm cake tin and bake at 180C for 1 hour. Leave to cool before slicing in half horizontally, if you want to fill the cake with a vegan icing.
Turkish Apple Cake
This is an internet find, promoted as 'very low fat'. Well, yes, no fat at all, in fact, so not really a cake at all. This was fairly tasty, but not very exciting. (It came out of the oven looking positively anaemic, so I melted another teaspoon of brown sugar over the top.) It didn't have anything to hold it together, so it was hard to see as cake, exactly. It was better warm than cold, so would make quite a nice dieters' dessert (though it would be considerably improved by a large dollop of clotted cream alongside). My taster couldn't help but notice that there was something un-cake-like about this one...
675g apples, sliced finely
juice of a lemon
50g walnuts, chopped
50g sultanas
100g brown sugar
100g plain flour
pinch salt
1 tsp baking powder
1/2 tsp vanilla essence
1 tbs water
Slice the apples and cover with lemon juice to prevent them going brown. Mix all the other ingredients together and toss with the apples. Pack into a cake tin and press down firmly. Bake at 180C for 25 minutes.
Aldeburgh biscuits
Finally an old stand by, a spiced biscuit recipe that I've blogged about before - I picked it up at Thane Prince's Aldeburgh Cookery School. I think these are totally delicious, though their texture can be a bit variable, often coming out on the soft side.
100ml olive oil
100ml sweet white wine (one marked suitable for vegans, of course)
75g caster sugar
150g plain flour
1/2 tsp bicarbonate of soda
3 tsp anise-based spice: such as Chinese Five Spice powder
Mix oil, wine, and sugar; fold in dry ingredients. Place teaspoons of the mixture onto a baking tray, spaced well apart. Bake for twenty to twenty-five minutes.
Thursday 22nd September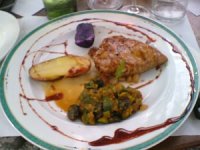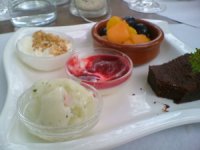 I hope I've managed to convey just how much I enjoyed my trial by catering. Quite apart from the wonderful setting, company, and so on, it gave me such a kick to 'feel the fear and do it anyway' - and in fact to make a reasonable success of it. Which isn't to say I wasn't exhausted by the end of the week - in fact I was close to exhausted by the middle of the week, and very glad of my half day off. On Wednesday there was no compulsory singing, and I didn't have to make lunch. We met up with a friend from down the road in Toulouse and rocketed off to see the sights. Well, we scrambled round some impressive hilly bits, and drove through some tempting-looking vineyards, and ended up in a pretty little town with Roman bits and a booming tourist trade, St Guilhem le Desert. Sights seen we settled down to a very good lunch. My filo parcel of brandade (salt cod paste) was beautifully light and creamy - as was this soup, which supported a tangle of langoustine tails. The waitress explained what was in it: 'carrots, garlic, butter, cream - and secrets!' We guessed that the soup was based on a prawn-shell stock, but other than that - perhaps saffron?
We were eating off a set menu, good value at 17 euros for three courses, so the mains all came with the same curried ratatouille and purple potatoes - both rather fun, but the ratatouille perhaps a bit strong for my salmon. It went better with the veal, which was served with a stock reduction that finally convinced C of the existence of umami. Best of all was the assiette des desserts. Clockwise from top left we had (a) fromage blanc with caramelised crispy bits - a bit too breakfast-like - (b) a salad of melon and blueberries, which was a refreshing complement to (c) a rich, dense chocolate cake; (d) pannacotta with red fruit coulis, ditto, and best of all (e) a home-made mint sorbet, incredibly fresh tasting and by some genius not at all reminiscent of toothpaste.
To be honest, a burger and fries would have had me in raptures by virtue of the fact that I didn't have to cook it myself; but this was a random choice that turned out to be excellent value, friendly and delicious. Just another reminder of why I love France...
Wednesday 21st September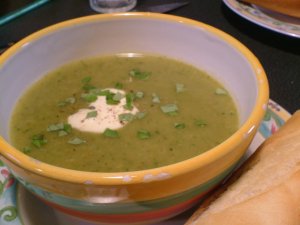 This courgette soup is based on the one from Patricia Wells' lovely book, The Paris Cookbook. I made the curry powder myself at home, thinking that would be simpler than searching a hypermarché for jars of stuff that I had sitting in my cupboards back in London - and being unable to find any official prohibition on the transport by air of mysterious powders. The soup was wonderfully simple and very popular, even when brought out again cold the next day. I should have anticipated, though, that making a large amount of soup out of a vegetable which is primarily composed of water would entail the purchase of truly vast quantities of courgettes: my helpful shopping assistants staggered out of the supermarket with 9 kilos of courgettes - that's two small crates. Here's the small scale version:
Soupe de courgettes au curry with thanks to Patricia Wells
BTW, the photo is of my practice version, with herb garnish. The curry flavour is strong enough to make that more or less redundant, so I served it in France with sesame seeds instead, which worked much better.
6 courgettes, sliced
1 onion, chopped
1 tsp curry powder
600ml stock
1 tsp sesame seeds, ideally mixed black and white
Sweat the onion and courgette until soft and add curry powder. Stir well and add stock. Bring to the boil and simmer gently for 20 minutes. Whizz with a hand-held blender until no large lumps remain (it doesn't need to be completely smooth). Serve hot or refrigerate overnight; use sesame seeds as a garnish.
French curry powder
The French use a surprising amount of curry powder, rarely referred to as anything more specific. This home ground powder is warm and tasty, with a strong kick in the aftertaste.
1tsp dried chilli flakes
2tbs coriander seeds
1tbs cumin seeds
1/2 tsp brown mustard seeds
1 tsp peppercorns
1 tsp fenugreek
1/2 tsp ground ginger
1/2 tsp turmeric
Toast spices in a dry pan until aromatic; grind in a coffee/spice grinder or pestle and mortar.
Tuesday 20th September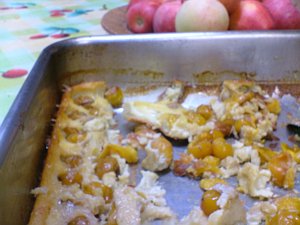 My favourite meal of the week just in terms of eating it had to be Monday. A rabbit casserole, cooked for hours with red wine and prunes, served with Ebly, the wheat grain which seems to be very popular in France - it's very like the pearl barley we get in the UK, a bit yellower perhaps and softer. But it was the dessert that I could eat for ever and ever - a clafoutis, like the cherry one I blogged early in August. Except of course that this was six times the size (and delightfully enough, that meant six times the sugar-crunchy leftover edges for the cook to gobble, too - my relationship with this clafoutis became even more intensely passionate over the twenty-four hours following dinner) and that September is too late for cherries. Yes, cooking in France teaches you that however closely you think you follow the seasons in England, you're wrong. Summer fruit in the summer? No. Cherries in June, strawberries in July, raspberries in August and plums in September. But in plum season you can really get plums: red, purple, gold, and best of all pinky-yellow mirabelles no bigger than a grape. They made a richly honeyed clafoutis perfect for a warm late summer's day. The clafoutis is light, I promise - light enough to follow a casserole - and the I liked the connection made by serving a plummy dessert after the lapin aux pruneaux - recipe (reduced to a sensible number of servings) follows:
4 'saddle' joints of rabbit
150g prunes
600ml red wine
100g lardons
500g button onions
1tbs flour
400ml stock
2 cloves garlic
200g button mushrooms
2 carrots, chopped
Marinate the rabbit in half the wine overnight, and soak the prunes in the other half. The next day, brown the rabbit portions and set aside. Fry the bacon and onions, adding a little oil if necessary to stop them sticking. When bacon is opaque and onions brown, add the flour and cook for another couple of minutes, stirring well. Add the wine and stock; rabbit, garlic, mushrooms and carrot. Simmer slowly for an hour - unless you trust your hob to stay at a very low heat, put the casserole in the oven at about 160 degrees. After an hour add the prunes and cook for a further 30 minutes.
Monday 19th September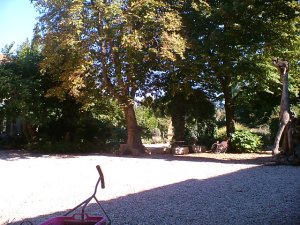 I'm back from France and I think I can say it went rather well. I didn't crash the car, I didn't offend any french speakers too grievously, and everyone got fed. Yes, there was the soup on the floor moment, the undercooked potatoes moment, the tired and emotional moments - but for a week in which I produced approximately 288 meals, that's not too many moments. Not to boast, but I particularly valued the compliments that began "I've never really liked aubergine before, but..." or "I would never have ordered rabbit in a restaurant, but..." And of course, not forgetting "I've lived/holidayed in France for n years..." The course attendees have anonymous feedback forms to complete, though, so we shall see what they really thought. Incidentally, if you ever have the opportunity to stay at La Maison Verte, you really must. It's fabulous.
Thursday 8th September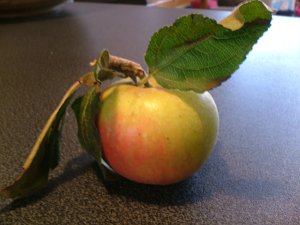 Andrew of Spittoon requested my thoughts on 'the spirit of summer' for an article on Slashfood. He's planning a whole series, I believe: check it out. While you're at Spittoon, be sure to sign up for Euro Blogging By Post #2... I want to know what's lurking in your cupboards!
Tuesday 6th September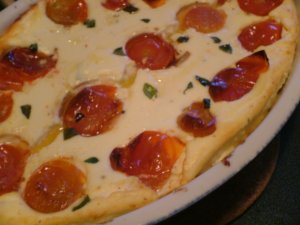 Here's a neat trick. Mix ricotta cheese with eggs and crème fraîche and whaddya got? It's like a fluffy quiche filling, which puffs up in the oven until it's almost soufflé-ish. A layer of roasted cherry tomatoes on the bottom and a scattering of grated parmesan on top give it lots of flavour. It seems light as you eat it, but with a salad and perhaps some bread it's easily substantial enough for a summer supper.
Ricotta au four
300g cherry tomatoes
500g ricotta
6 eggs
200ml crème fraîche
50g parmesan, grated
Put tomatoes into a baking dish and drizzle with olive oil. Roast at 200C for fifteen minutes until burst. Meanwhile, beat together ricotta, eggs and crème fraîche and season; you can also add some robust herbs like thyme. Pour the mixture over the tomatoes and sprinkle parmesan over the top. Bake for 20 minutes until set and golden on top.
Friday 2nd September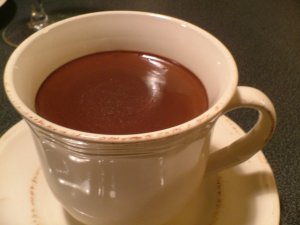 We didn't really do fancy desserts in my family when I was growing up. Puddings were confined to Sunday lunchtimes, and were of the hearty English variety: plum crumble, apple pie, orange sponge pudding; sometimes ice cream, of the pink/brown/yellow variety (I hesitate to assign flavours to those colours...). So it made quite an impression on an over-stodged, chocolate-starved pre-pubescent when, on a rare outing for lunch at the home of some friends of my parents, we were given the house speciality: chocolate cream. The family had a familiar name for this dessert which was obviously a recurrent treat: chocolate goo, or gloop, or something. It escapes me. But I can recall the experience vividly. This wasn't the norm. It wasn't stodgy, or scalding, and it wasn't drowning in custard (my bête noir at the time, before I learnt to make it myself with cream and eggs and vanilla and NO LUMPS). It was cold and rich, but not sweet. It wasn't mousse - I knew mousse, had nothing against it, but this was so smooth and luscious.... maybe there was alcohol in it. It was unlike anything I'd ever had and I wanted to eat it forever. It retains a hallowed position in my culinary memory. Nowadays, of course, I understand a little better the magic that can be worked with eggs, cream, and chocolate, and variations on that theme (ice cream, panna cotta, mousse) are faithful friends. When I can, I order a pot au chocolat in French restaurants, hoping it'll come in a darling dumpy little urn, with a lid to prevent the premature evaporation of the spoonful of liqueur over the top. When I can't, I make it at home. You will notice that in the photo I, ahem, forgot to reduce the quantities and was forced to serve it in cups four times larger than recommended. What a pity...
Pots au chocolat - serves maximum eight
175g best dark chocolate
200ml double cream
50ml milk
1 egg
Heat milk and cream gently so it does not quite boil. You can add whatever flavouring you like at this point - either spices (cinnamon or cloves are good) which you strain out before adding the chocolate, or simply a tablespoon of your favouring liqueur. Chop chocolate finely; add to liquid and melt completely. Remove from heat. Add egg and beat well to combine thoroughly. Pour into coffee cups or small ramekins and chill for four to six hours before serving.