Tuesday 28th June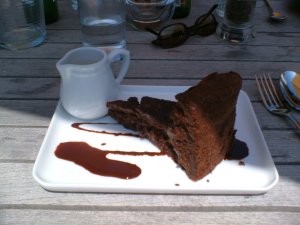 Desserts at The Crown and Castle were equally luxurious, though the menu showed a quirky side. A slice of sunken chocolate cake - of the sort sometimes called mousse cake, or in common parlance 'squidgy' - is here referred to as 'Sad (but not suicidal) chocolate soufflé'. I don't know how the soufflé felt about it, but it certainly sustained my good mood. The small jug of almost solid Jersey cream had probably travelled further than anything else we ate (ok, except the cocoa beans) but it kept things firmly in the British tradition. Pannacotta was good, too (and he does keep ordering it, so one of these days I'll have to think of something interesting to say about it), with a sharp compote of blueberries gleaming on the side.
Monday 27th June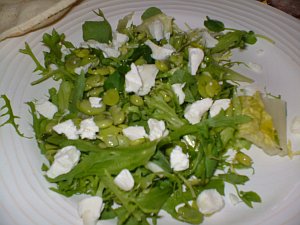 Quick tip for those with a Sainsbury's to shop in: the salad with the pea leaves and mint in is really good. I haven't seen pea leaves (as opposed to sprouts) anywhere else, where should I be looking? They are sweet and spookily pea-flavoured, which is cool. Dress the salad up with goat's cheese and blanched broad beans: yum yum.
Saturday 25th June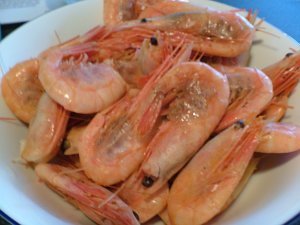 Lovely smoked prawns from the famous Orford smokery. These were unbelievably cheap - can't remember the weight but about one pound fifty for two good portions. We ate them, messily, just as they were, with the following salad:
A Good Salad with Prawns Smoked in the Shell
Cold new potatoes, sliced thickly
One ripe avocado, sliced
Good handful of salad leaves
For dressing:
2 tbs crème fraîche
few cornichons, sliced
teaspoon capers
juice of half a lemon
fresh parsley, chopped finely
Sauté potatoes in olive oil until golden and crunchy. Salt lightly. Scatter avocado slices over salad leaves and add potatoes. Combine dressing ingredients and spoon over salad.
Thursday 23rd June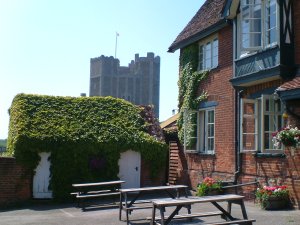 This is the view from the terrace at Ruth 'Fat Girl Slim' Watson's restaurant, Trinity, at her hotel, The Crown and Castle, in Orford, Suffolk. Beautiful, n'est-ce pas? This place is wonderful. They say the weather in Suffolk is too unpredictable to open the terrace every day - they take a decision mid-morning, and if they decide it's not warm/dry enough, you eat indoors - even if by lunchtime it's blazing sunshine. Luckily all the forecasts agreed that Saturday was going to be cloudless and hot, so we got the view, the ambience and oh yes, sunburn. Which we didn't notice at the time because the pleasure of the food was just a little distracting. To start: potted shrimp, the spicy butter bursting with tiny sweet Suffolk shrimp. Local produce is a big theme here and being so near the sea that means fish. Orford has also long been famous for its smokeries, so the other starter had to be a 'panoply' of smoked fish: salmon, trout, prawns and cod roe, with a light lemony crème fraîche. This was wonderful, each fish subtly different. In a shocking departure from the rules, we ordered the same main (it was the only fish on the menu other than skate, and I have reservations about cooked cucumber). The cod - locally caught, of course - was unbelievably tender, with a wobbly, garlic-heavy aioli. It came with a salad of white beans, rocket and artichoke hearts, studded with chunks of tomato. A very summery dish, nothing too punchy. Kudos to the poor sous-chef who made mayonnaise at 28 degrees.
Wednesday 22nd June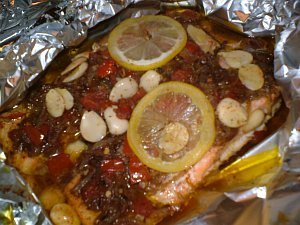 Cooking Like Mummyji, Vicky Bhogal
Vicky Bhogal describes herself as a typical second-generation British Asian: indistinguishable from any other young British woman in education, career and hectic lifestyle, but with a deep affection and respect for the more traditional Punjabi customs her parents' generation brought with them to the UK. Cooking Like Mummyji is a love letter to the food of that culture, and especially to the many ways in which it has endured by adapting to, and borrowing from, British habits and products. This book will tell you how to 'spice up' a tin of Heinz baked beans - or how to prepare a proper dhal from dried pulses and freshly ground spices.
Vicky has a chatty tone and a knack for conveying how integral these recipes were to her childhood. Nearly every page starts 'this is my father's favourite...', or 'my aunt is famous for these snacks...' Her greedy descriptions made even the more complicated recipes enticing. Those I tried worked well. Her recipes are clear and easy to follow, and unfamiliar methods are well explained (though I admit I have not yet ventured into the mysteries of the many kinds of roti, or flatbread). Recipes I'll certainly be going back to include Lip-smacking Salmon (pictured) - its buttery almond sauce deserves the name - and Bada Singh Meatballs, made with minced chicken and ginger for a light texture and fresh flavour. Then I must make some lemon chutney, and try roasting a chicken in green masala paste, and of course there's those roti...
The book has a good balance between traditional recipes - particularly in the chapters dealing with vegetarian dishes, dhals and chutneys - and newer (but no less 'authentic') ideas for pasta, fishcakes, beef (very rarely eaten in India) and the aforementioned baked beans. There are few pictures of the food, which may disappoint some; but these are mostly not the sort of recipe where you need a guide to presentation. And they are more than made up for by the beautiful design of the book. Most pages are decorated either with evocative sari patterns or bustling black and white photos of Vicky and her family, generally in the kitchen. That sums up Cooking Like Mummyji: a touching and inspiring snapshot of a cuisine at an exciting corner in its evolution.
Tuesday 21st June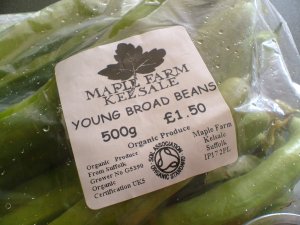 I don't know about you, but I do like to be beside the seaside. Saturday was scorchio in the city, but up in Aldeburgh the sky was blue, the sea sparkled and it all seemed a lot easier to cope with. And whatever you think about Aldeburgh (people seem to have strong opinions, whether they love it to bits or think it's dreadfully commercialised - Britten wouldn't recognise it, y'know) there's nowhere like a thoroughly gentrified country town for really eating well. We visited a farm shop; a smokery; a fishing shack on the quay, and Ruth Watson's Crown and Castle at Orford. (We didn't visit any of the delicatessens or fishmongers that line the high street; Thane Prince's cookery school, or The Lighthouse... but we did pick up four artichokes for a pound from the 'please leave money in restoration fund box' pile in the church porch. Even the ice cream stall on the beach sells sorbet bursting with ripe local blueberries.) These broad beans were the sweetest and tenderest I've had yet. Lightly boiled, with asparagus picked that day from the fields beside the shop, and grilled dover sole caught that morning, the whole annointed with a dab of butter, there is nothing finer. Except perhaps a large punnet of equally fresh Suffolk strawberries...
Friday 17th June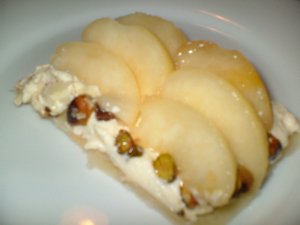 I haven't done a Sugar High Friday for a while but I quite fancied this one - hosted by Life in Flow, a site with which I am very glad to have become acquainted. The subject is tarts. So many choices! In the end I decided to make a sort of peach galette, because a) the peaches were ripe and irresistable and b) it would involve minimum hot-stove-slaving. Hmmm. Didn't work out quite as anticipated, so I think I will follow Sam's excellent example and not provide a recipe until I have put together a workable one. But the basic idea is a puff pastry base (I had read that this kind of base is best achieved by cooking the pastry between two baking sheets to prevent it rising too high - and it was certainly flat, but also undesirably chewy), spread with cream (I used plain whipped cream but perhaps crème patissière would have been better?) and topped with fruit. I also wanted a layer of pistachio nuts, and I caramelised them with butter and brown sugar. This is a tart that's trying hard - and has potential - but needs some loving attention and encouragement to bring out her best. One to which to return.
Thursday 16th June
Every one of the (far too many) food magazines I've bought this month say 'of course, now it's summer, you'll be eating salad every day rather than cooking'. Erm, how? Leaving aside the weather, salad of the green variety isn't any easy thing to keep a fridge full of. Yes, if I've been to Borough, I'll have a head of something interesting that I can pull leaves off for a few days. But like most people with jobs, most of my food shopping is done in a supermarket: which means a choice between watery iceberg lettuce and pillow packs of heavily chlorinated leaves. They're ok the first day, but try to keep them longer and they're very quickly brown and soggy. So this tomato salad is the first step in my quest for end-of-week salads: tasty and fresh, with no pre-cooking and no leaves.
Cherry tomato salad with pomegranate dressing
Halve a punnet of cherry tomatoes. Finely chop three spring onions and scatter over. Mix dressing of one tablespoon pomegranate molasses; two tablespoons olive oil; half tablespoon water; pinch of cinnamon; salt and pepper. Dress salad just before serving.
Sunday 12th June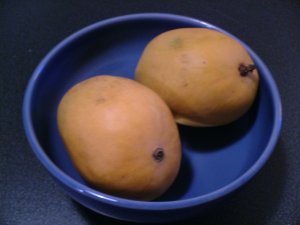 Buy some Alphonse mangoes. I mean it, do it now! Run don't walk and so on - the season is short and they are truly more lush, more headily perfumed and bursting with sticky sweet juice than the ones we get for the rest of the year. They come from Thailand, and are as brilliantly yellow inside as they are outside (this photo really doesn't do them justice). You ought to smell them ten paces away and find them ripe and heavy, tenderly cushioned by a loving grocer, with a little drop of sticky juice just oozing from the stem. (Look, I'm sorry, it is impossible to write about these things without sounding filthy. But if fruit like this doesn't turn you on you may have a vitamin deficiency.) The flesh is as seductively slippery as pannacotta. I wouldn't recommend doing anything at all with them except slicing and scoffing. You know both ways to get at a mango? You can either primly slice each cheek off the large flat stone, and cut a lattice through the flesh (not cutting through the skin). This allows you to turn each half inside out - bingo, mango hedgehog, with each little square 'spine' ready to be sliced off neatly. The other way is to eat it sans knife, sans bowl, and of necessity sans clothes - in the bath, say. Which I suppose has its charms.
Wednesday 8th June
Sorry! Crazy week. As the summer finally seems to have appeared, though, here are a couple of throw-together things, either of which would make a nice light lunch or side dish.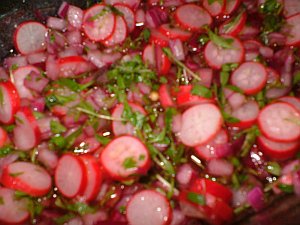 Fresh radishes make a lovely zingy salsa with lime and coriander. I found baby coriander at the farmers' market (it's sometimes called coriander 'cress' or 'shoots') which was particularly nice as it's soft and subtle, with a few seeds already growing. If you can't find it, use ordinary coriander leaves with a couple of seeds crushed into the dressing.
Radish salsa
Bunch of fresh radishes
1/2 red onion
juice of 1/2 lime
1 tbs olive oil small bunch of baby (or adult) coriander

Chop the onion and squeeze the lime juice over it. Leave to stand while you slice the radishes finely and chop the coriander. Add the radishes to the onions with the olive oil; season and mix well. Add the coriander just before serving.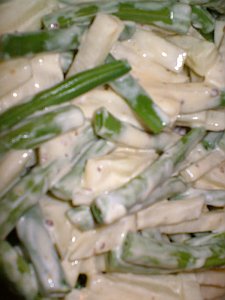 This is a kind of remoulade, which is often made with celeriac. Kohlrabi has a milder flavour, so the beans add interest and that nice healthy feeling that eating something green gives you - even if it is smothered in mayonnaise.
Kohlrabi remoulade
1 kohlrabi, cut into fine strips
Handful of green beans, topped and tailed
1 tsp mustard
2 tbs mayonnaise (a good one from a jar or make your own)
Blanch the beans for a couple of minutes in boiling water and rinse under the cold tap. Stir mustard into mayonnaise and season. Toss beans and kohlrabi in dressing and serve to accompany cold or grilled meats.
Wednesday 1st June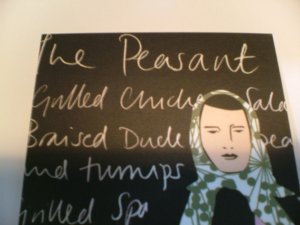 Finally in our short series on London's exciting restaurant scene, The Peasant (240 St John's Street, Clerkenwell). The Peasant is an attractive Victorian pub downstairs, and upstairs feels connected - the same dark oak floors and large windows - but classier, and pleasingly quirky, with a loose collection of circus-themed posters and paintings, and carefully mismatched chairs. On a weeknight we were first in at 7.30, and one of only three tables taken by the time we left. The single waitress, then, wasn't rushed off her feet, but we never felt we were intruding on her peace as is sometimes the case in an empty dining room.
On a rather un-spring like evening, a velvety cauliflower and celery soup was wonderfully warming. The generous scoop of chilli jelly lurking under the surface was a rounded, smoky-sweet addition, and by the time I'd scraped the bowl clean, I was as relaxed as if I'd kicked off my shoes and downed a large glass of wine. My dining companion had had a long day too... the tender pinkness of his roast pigeon breast had a more invigorating effect, bolstered as it was by earthy roasted beetroot and artichoke hearts. The subtle tang of wilted garlic completed a satisfyingly complex plateful.
My main course ensured I didn't relax all the way under the table. A spiky parsley and lime salad made a rustically Mediterranean 'brodetto' of red mullet, monkfish and chickpeas into something bright and sophisticated. The bursts of lime juice highlighted the fresh, seaside flavours of the fish against the familiar deep richness of the slow-cooked tomato broth.
Roast lamb was impeccably cooked, and accompanied by a rather unusual 'flan' - an eggy, quiche-like (but pastryless) cake of Appleby's Cheshire cheese and pine nuts. To contrast with the rich softness of both the meat and flan, a sharp and crunchy salad included beetroot - pickled this time - chard and enoki. This rather unexpected combination did come together, assisted by a meaty jus.
Someone's imagination had run riot over the dessert menu. In contrast to the comprehensive descriptions of starters and mains, desserts - especially the ice creams - have fanciful, 50s sci-fi names. 'Cold Fusion' ice cream turned out to mean ginger/pineapple - extremely good, with chunky caramelised pieces of each - certainly cold, but hardly fusion in its usual culinary sense, let along a chemical one. No, 'Space Junk', 'Cosmic Crunch' and the rest serve mainly to place The Peasant firmly in context: trendily retrogressive Clerkenwell. An assortment of doughnuts (including fudge, lemon curd and marshmallow) has a similar feel. It's all good fun, and perhaps a gimmick is required to tempt the local crowd to eat ice cream. But a less comic book dessert, a peppery brioche with luscious mango and mascarpone, whose flavours developed slowly but surely with each mouthful, is a more typical example of The Peasant's main strength: confident, bold and thoroughly grown-up cooking.
Bill for two came to £60 (inc. service but no alcoholic drinks)
Value for money? Well worth it.
Would you go again? Like a shot.
Marks out of ten:
Service 7/10 - neither intrusive nor neglectful
Atmosphere 7/10 - rather quiet on a weeknight, but a lovely room with potential
Food 8/10 - imaginative and well balanced