Tuesday 28th February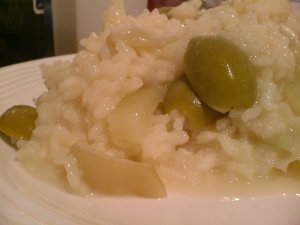 You wouldn't believe it from the presentation, I know, but this was inspired by Nordljus. Keiko's beautiful red mullet on fennel with vanilla and olive sauce kick-started me out of my post-flu lethargy with the idea that comfort food could have exciting flavours, too. I decided that although I would need to skip the fish, I had everything I needed to make a fennel and vanilla risotto with green olives.
I'm not usually so adventurous with risotto - I like it with lemon, C likes it with bacon, but generally we are both more than happy to settle for the classic with good stock and lots of parmesan. But the idea of combining comforting risotto with soothing vanilla was too good to pass over. I do think this worked well, though I don't expect it to join the lemon/bacon/cheese rotation. The olives were sharp enough to avert the danger of it tasting like rice pudding, and the fennel and vanilla just buzzed along together in exactly the quiet, warm way I'd hoped.
Fennel and vanilla risotto
Saute half a finely chopped onion in some butter and oil until soft. Slice a bulb of fennel and add the rings to the onion, soften for ten minutes. Add 250g arborio rice and toast until it sizzles. Add a splash of pernod and start adding warm chicken stock. Add a quarter of a teaspoon of vanilla extract. Top up the stock, stirring constantly, until rice is soft and about a litre has been absorbed. Finish with halved green olives and a spoonful of crème fraîche.
Monday 20th February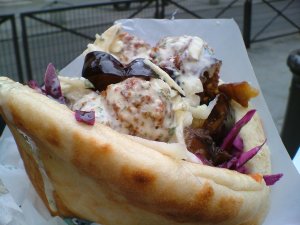 Also eaten in Paris: the most delicious fallafel-with-everything: crunchy cabbage salad, spicy aubergine, sharp yoghurt sauce and puffy flatbread. From L'As du Fallafel, Rue des Rosiers in the Marais. We even found a darling little square - completely deserted - to sit shivering in and eat with a slightly more Parisien decorum.
Monday 13th February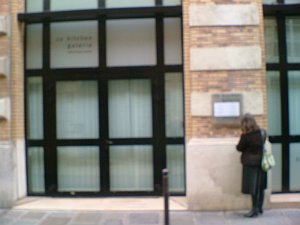 Ze Kitchen Galerie, rue des Grands Augustins, 75006 Paris
Now what's going on here? French restaurant naming itself in an English person's bad impression of a french accent? Those crazy frogs. This could be a subtle way of referencing the innovative, 'molecular gastronomy' movement that has caught on slightly more in the UK, perhaps (cf that list that said Fat Duck was the best restaurant in world ever, etc (whaddya mean, research?)) or it could be because Englishness is supposedly very trendy in French food circles at the moment (crumbles everywhere). Nothing specially brit-chic about Ze Kitchen once inside, however. A small window shows the chefs at work - is that what the 'gallery' part is supposed to mean? Or does it refer to the groovy abstract art on the walls? Either way, it's a pleasant room, a little more spacious than many Paris restaurants, and everyone around is speaking french: good sign.
Good deals on lunches, too - 29 euros for two courses or 34 for three, with all the same choices as the à la carte, though it looks as though a.l.c. comes with the fun extra stuff pre-, post- and inter-. None of that for us, and frankly there was plenty of fun without it. Starters layered two or three flavours to produce oceans of depth: rich and savoury in pumpkin ravioli in parmesan broth with mushrooms; fresh and sweet in coconut, lemongrass and pea soup with scallops and prawns.
In the main courses tastes and textures were bursting out all over the place. Like what? Oh, well, like Paris in springtime, then. My cod was dressed with a velvety sweet potato and ginger aioli and accessorized with sticks of brandade coated in satisfiyingly crunchy breadcrumbs with thai basil. Thai is obviously flavour of the month: there was lemongrass here again, but in combination with the ginger and basil it dominated less than in the zingy soup. Finally veal cheeks were served with grainy split-pea puree, black sesame and mostardelle - which was surely the name of the sausage-cum-boudin pieces alternating around the plate with the tenderly braised morsels of veal, but I've never heard of it, 'tisn't in Alan Davidson and even Google has all of three hits for it in languages I can read, so if you are on more intimate terms, please introduce me. I think we'd get on; perhaps we could do lunch next time I'm in Paris...
Wednesday 8th February
Bonjour mes amis! Yes, we are back from Paris, having had a very nice time indeed. We ate well (bien sûr), we were sociable (and can report that the celebrated Clotilde is tout à fait sympa), we walked until my best boots needed re-heeling, we spoke some fluent french (lui) and some stumbling but generally-well-received french (moi), and we ate ice cream in the snow on the banks of the Seine. Oh yes: and we ate some rather fine cakes...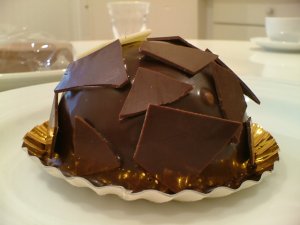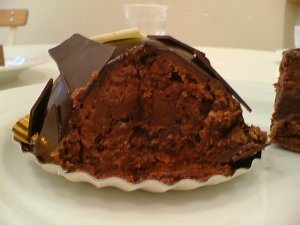 #1: Plénitude
Dark chocolate with salted caramel. A chocolate biscuit base, with cocoa nibs and crunchy fleur de sel caramel, topped with a dark chocolate ganache and mousse, and finished with chocolate glaze and armour. Lusciously rich - though the salt ensures it is never cloying - but perhaps a little too much on one note, at least compared to the others. 'Salted chocolate' seems to me like one flavour rather than two, and there was not much textural variation.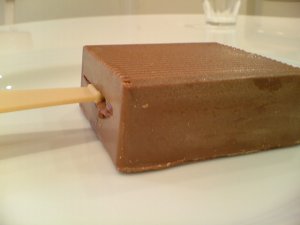 #2: Mr H Mogador
Milk chocolate with passion fruit. Very silly name, very cool cake-on-stick. Lemon sponge in the middle, then passion fruit jelly, chocolate and passion fruit ganache, and a solid milk chocolate exterior. Fabulously sharp citrus against the creamy milk chocolate - the ganache in particular I could eat by the gallon, but of course it is the combination with the lemon and the straight chocolate which brings it together. I think the lowbrow components - milk chocolate and sponge cake - make this particular suited to be eaten from a stick, which makes it rather a fun and nostalgic experience as opposed to the seriously adult gastro-worship of eating luxury patisserie with a fork.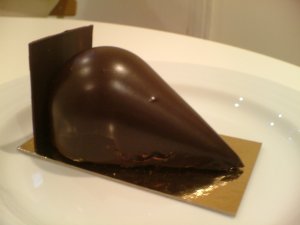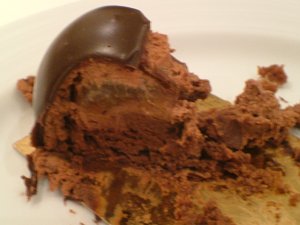 #3: Instant
Dark chocolate with earl grey tea. Another very elegant chocolate confection. A soft biscuit base, with chocolate and tea mousses and tea jelly. Apparently the earl grey tea was cold-infused for the jelly and mousse to prevent the accumulation of tannins. I certainly found it more subtle and refreshing than some other tea-flavoured desserts and chocolates I have tried.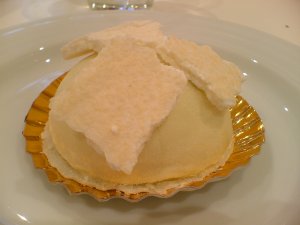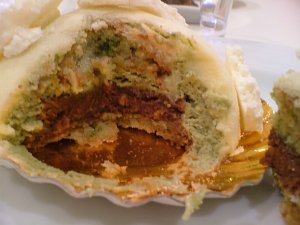 #4: Dune
Pistachio and maize. To my surprise this was my favourite of the lot. The central core of ganache contained crunchy roasted maize kernels, pralinated almonds and raisins. That was surrounded by pistachio mousse and an outer layer of light vanilla mousse. I'm not mad keen on meringue but they certainly added an interesting dimension texturally - there were probably five or six different textures here as well as a compelling combination of flavours. Highly recommended.
And Pierre Hermé overall? Have loved it long time, what with it being a hundred yards from the flat and all, but so much fun to go in after having read Clotilde and Louisa's tasting notes; and to say in quiet and practiced french (in contrast to the noisy and indecisive tourists in front - we're not tourists, oh no -) bon soir, and that you'll take a plénitude today, please. (I should add that my snobbery is not shared by the staff, who are polite and patient, and speak very good English. It's just that the shop reminds me so much of an exclusive boutique: and it's so comfortable to be the right kind of customer for once.)