Friday 27th May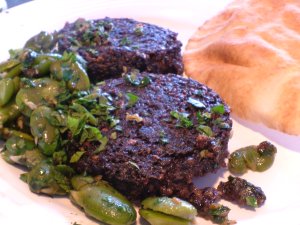 I do believe these were my first ever in season, fresh from the pod, squeaky green broad beans. They will not be the last. A quick blanching ensures they pop out of their skins easily, and cooking them with in a light stock of garlic and fennel makes them tender and tasty. In the same pan I fried off some black pudding. That was crumbly, mildly spicy and a very good match to the sweet starchy beans. By the way, you can buy black pudding in sausage shapes or haggis shapes or, as I did, in slices - about six centimetres in diameter and 2cm thick. It is already cooked so it just needs a few minutes on either side, in pan or grill, to heat it through and crisp up the edges.
Thursday 26th May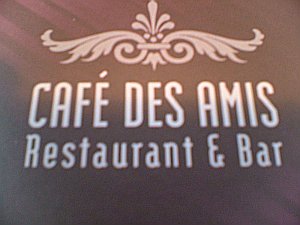 Café des Amis, off Long Acre, Covent Garden (website)
We visited Café des Amis with the in-laws, post-opera: so let me start by saying that this is not a review, but a few tasting notes on the food. I started with the 'terrine of the day', in this case of rabbit and pork. I suspect that it doesn't vary that much, as the accompaniments are not 'of the day', but preserved figs, pistachios and brioche - and the rabbit and pork version shows up again on the prix fixe, so it's obviously a staple. The figs were heavily caramelised, to the point where they slightly over-balanced the terrine, despite its own robust meatiness. The terrine was good, though, with rough chunks of lean rabbit meat held together by rich pork fat. C's tuna tartare was very well put together: the intensely fishy keta eggs emphasising the subtler tuna. A rich crème fraîche dressing was a typically French touch of luxury.
I surprised myself slightly by ordering a vegetarian main. Having gone a whole week without asparagus (in May!) I couldn't resist the feuilletté d'asperges, and it didn't disappoint. Vivid green stalks were cooked just to tenderness and served with a heavenly hollandaise, flecked with parsley. Perched on top was a generous tart of wild mushrooms - with a puff pastry lid scored to create a tiny chessboard of maximum possible crispness. By the way, I suspect that the vegetarian offerings here are rather better than one sometimes finds: there seems to be a reasonable, though not vast, choice (two dishes can be ordered as either starters or mains, giving a choice of three starters in total and four mains). And if mine was typical, the quality is high too.
C's calf liver looked like a fried breakfast with its huge field mushroom and grilled tomato, and was cooked a shade unevenly: but where it was good, it was very good, and the combination of creamy pommes purée and red wine jus ensured he had no complaints. A rocket salad with parmesan and walnuts ordered on the side was the only thing that struck a wrong note - half the walnuts were caramelized, a nice touch perhaps in a main course salad (though even then I'd have preferred all or none) but too much of a clash with the cheese and vinegary dressing for a side dish.
But the desserts, oh, the desserts! 'Specialité de la maison' would have been irresistable anyway: Callebaut chocolate soup with black pepper ice cream. Oh boy. The soup was actually a fondant, baked very briefly and served in the hot bowl, so that the molten chocolate was contained by a thin surface of crisp cake with the same intense flavour. (Callebaut is the name of a family of Belgian chocolatiers.) In the centre a scoop of ice cream looked innocent enough, melting and sinking into the soup - but yes, what look at first like vanilla seeds really are specks of black pepper. A very funky idea, whilst not too star-huntery, and firmly rooted in French cuisine. Sadly, if I'm totally honest, I can't give this absolutely top marks. Presumably ice cream is served with the fondant because it has to be served lava-hot, and the coldness of the ice cream, rapidly melting into the gooey centre, is a pleasant contrast. Ok, so use a cooling flavour of ice cream. But presumably pepper was chosen for its subtle fruity flavours, which have been used recently by several well-respected chocolatiers to complement single-variety dark chocolate? Ok, so serve the chocolate at a temperature that doesn't scorch your tastebuds. I love the idea, I love the flavours, I love the contrasts: but the additional 'heat' of the pepper was too much.
No quibbles about C's dessert. Light and creamy coffee mousse came with hot espresso floating over the top, a quenelle of smooth chocolate ice cream and a scattering of toasted hazelnuts. Strong coffee, shades of beige - those who know him will appreciate how perfect this was.
Tuesday 24th May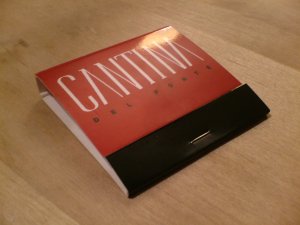 Cantina del Ponte, Butlers Wharf (website)
My friend Claire works in the Arts. Her job involves, inter alia, anticipating and preventing the hundred minor disasters that can ruin a performance. It's a job that requires attention to detail, imagination, and an almost supernatural empathy with temperamental strangers. So? So she's really very good at waiters. 'He's written that down wrong,' she told me. Oh gosh, I thought, Englishly, but it would be rather rude to mention it. After all, what do I expect, speaking English in an Italian restaurant? But Claire insisted - she was right, of course - the waiter was charmingly grateful, and I got the dessert I wanted.
This wasn't an isolated example - and with such attention to incompetence, even Claire couldn't prevent a few mishaps. It's a problem of misfocused energy, I think. I can place my own napkin, thanks; I can pour my own wine. Not that I necessarily want to: these little flourishes all add to the theatre of eating out. But I can't go to the kitchen myself, tell the chef what I want to eat and bring it back... and if you can't either, perhaps a little less theatre and a little more waiting?
Bah, grumpy old woman. The food was smashing, so at least some of the energy was in the right place. They make a big deal of their antipasti, so we shared a few plates instead of ordering a main course each. Antipasti misti included a luscious prosciutto and some nicely differentiated salamis - and I liked the rustic presentation on a wooden board. Grilled sardines came with sun-dried tomatoes and chilli, in a sweet, smoky, roasted salsa. Chargrilled squid was deliciously singed but still tender. New potatoes and green beans in pesto filled the gaps and were surprisingly fresh and spring-like.
Desserts? Hmmm. The chocolate fondant we ordered was off - but it took them ten minutes to work this out and then our dear goofy waiter couldn't tell the difference between cream and ice cream to go with the replacement strudel. The strudel itself was successful, I'd judge, with hot pears studded with pine nuts. A panna cotta was good but not especially memorable and a so-called 'chocolate and almond tart' was a slab of warm chocolate cake, not as moist as it should have been considering that it had been made with ground almonds.
With a bottle of pleasantly crisp Italian white, this came to over £60 - a bit steep for a very light lunch, even with the river view. A nice place to splash out for dinner on a warm evening when you could sit on the terrace; the squid and sardines were the best things we ate, so one of the several seafood pasta dishes would probably be a very good bet. But you might want to ask your waiter to read back your order to you.
Monday 23rd May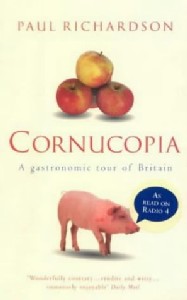 Cornucopia: A Gastronomic Tour of Britain is a lovely book that I defy you to read without feeling hungry. Paul Richardson describes his travels around the UK in search of the best of regional food and culinary tradition. The style suits the subject: there is something British about his wry humour, dogged dedication to his mission, and evocative but not overblown descriptions. He has a knack for describing food and places, for summing up both the history/tradition and the present reality. His description of the one place he visited that I know well (Cambridge) made me weep with nostalgia, so if you were brought up on tripe, or pasties, or elvers, you too may end up snivelling into your napkin.
Richardson is enthusiastic but honest - he tells you when he doesn't like something (or does like something that's totally fake and un-food-snob-acceptable), or when he's made himself ill from eating too much. I appreciate the inclusion of recipes: I would have liked even more, but I am a junky, and I reckon the number is about right for more general readers. He chooses sensibly simple examples. In writing about the food of Britain, he subtly says a lot about its weather, media, attitudes, sociology, etc. The book has dated a bit: since it was written in 2000, this argument ("British food traditions are great whatever the Europeans think! So why do we eat so much junk food?") has become a cliché. But despite that this is a hugely enjoyable read.
Sunday 22nd May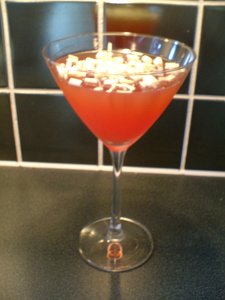 This month's Is My Blog Burning? is hosted by Elise of Simply Recipes. The theme is 'jelled' and it looks as though there are already some amazing ideas out there! Like any culinary-minded graduate, jelly holds an important place in my repertoire: after all, it's cheap, it's sweet, it reminds people of their childhood, and it can hide quite lethal amounts of cheap alcohol. So it is no-one's fault but my own that despite the hours of dedication I have put in since leaving college to learning about, practising and producing lovely, simple food from the best ingredients, what sticks in people's minds is a certain orange and black striped 'tigger jelly' - made of packets of orange and raspberry flavoured jelly enhanced with black food colouring and half a gallon of vodka. Sigh. This was made, of course, to accompany our end-of-term viewing of 'The Tigger Movie' - a masterpiece in its genre, which I commend to you. Don't forget the half-gallon of vodka, though.
I resisted the stripes this time - my fellow food bloggers have different criteria for a memorable recipe, I suspect - but couldn't help turning to the drinks cabinet for inspiration. This is vaguely Swedish: a tenuous link to yesterday's Eurovision Song Contest. It's quite refreshing and fruity - I don't think many people would be able to identify quite which fruit it is. Lingonberry cordial is, of course, available from your local Ikea.
The recipe is in imperial for a change: it's out of keeping with the Euro-theme, and I don't usually, but the instructions on the gelatine are in pints for some reason so it seemed easier.
Lingonberry jelly
3 fl oz lingonberry cordial
3 fl oz citrus vodka
9 fl oz sparkling mineral water
1 tbs sugar
3 sheets leaf gelatine
white chocolate to garnish
Measure the cordial, vodka and water into a jug and add the sugar. Lay the gelatine sheets in a shallow dish and pour a little of the liquid over them. Allow them to soak for a few minutes until softened. Meanwhile heat the rest of the liquid gently - it does not need to boil. Add the softened gelatine and stir gently (you want to retain some of the bubbles of the mineral water) until completely dissolved. Allow to cool a little before pouring into two cocktail glasses. Chill in the fridge until completely set (about three hours). Decorate with shavings of white chocolate.
Friday 20th May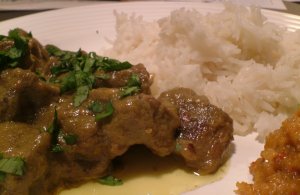 As promised, I made Indonesian-style curry last night. Not such a great after-work supper, as they go (three hours?!) but well worth it in the end. One to try again at a weekend. It's easy as. The meat and spices go in together, then the coconut milk, and the whole lot simmers for a long time until the sauce is very reduced. I'm glad I'd been warned that the coconut milk would split, as it looks a bit alarming, but you really do need to carry on until it is very thick and sticky. This also came out a bit of an unappealing khaki colour (the one we had in Amsterdam was much darker reddish-brown) but I guess that's the turmeric. It was also hotter and less sweet that the Amsterdam one, so next time I will play about with the spices and maybe even add a spoonful of brown sugar? But it was delicious and not only because we'd waited so long for it. Also on the plate you see plain basmati rice and some very addictive chilli-peanut relish which has been maturing to a good fieriness in the fridge for a week or two. Recipes below.
Rendang
300g braising beef, cut into 3cm chunks
1 tin (400ml) coconut milk
1/2 onion
2 cloves garlic
1/2 tsp turmeric
1 tsp chilli flakes
1 tsp ground ginger
optional: coriander to garnish
Brown beef with onion and garlic; add spices and fry for a couple of minutes. Add coconut milk, which should just about cover the meat. Bring to the boil and simmer steadily for two-three hours until the beef is tender and the sauce very reduced.
Peanut relish
3 tbsp vegetable oil
2 garlic cloves, chopped roughly
2 large shallots, chopped roughly
15g roasted salted peanuts
4 red chillies, chopped roughly
1/2 tsp blachan (dried shrimp paste) (substitute fish sauce)
1 tbsp ketjap manis (sweet soy sauce) (or any soy sauce)
Grind together in a blender or pestle and mortar.
Thursday 19th May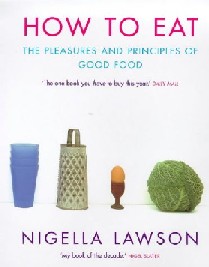 Last night's assignment was to bring in a favourite food/recipe book and explain why we thought it was good. It was interesting to see that most people chose books for the writing rather than pictures or recipe content - Elizabeth David was a favourite, and others brought Jeffrey Steingarten's The Man Who Ate Everything and Nigel Slater's Toast - both books I would recommend, too. But I do need recipes in my food books, and so there could only really be one choice: How to Eat. I know this is a very personal choice, and that the p0rny TV show and high media exposure have irritated a lot of people. But if you put that aside and read the book, you have to admit it's great. Cue sick-making fan-spiel:
Why I love How to Eat
It really chimes with my style of cooking. Sometimes you eat plastic bread; sometimes you want to show off or cook mountains of food or spend hours in the kitchen. The book assumes a passion for food (it never speaks as though cooking and eating is a chore, even if you are making something quick or low-fat or for a small child). It doesn't assume a particular level of expertise: if you need to know how to make pastry, say, or custard, the instructions are there, in calm and empathetic detail, under basics; if you know already, the specific recipe doesn't drone through it again. The writing makes you see how the food will be, so the lack of pictures is not a problem. The book divides into menus in the sections which are about multi-course meals, a fact I bless her for every time I plan a dinner party (even if I don't follow her suggestions, I learn from them about balance and seasonality and complementarity). Her recipes have context: both historical and practical, so you can understand when you need to start in order to have something on the table for lunch, and what you could reasonably do at the same time. Books by chefs (as opposed to home cooks) can be intimidating: no amount of editing disguises the fact that the recipe was designed to be cooked in a professional kitchen. None of that here. You feel that every recipe has been made many times, with variations, improvements and mistakes; served to friends; and chosen for inclusion because it worked, and she loved it.
Most of all though, cliché that I am, it makes me feel as though Nigella is my friend. She is an incredibly talented writer. She is witty and generous, and able to make you feel not simply that you would like her, but also that she would like you - because you share her obsession with food, any food. (Some food writers make you feel that it would be hard to match their standards.) That's also because she speaks so warmly about her family and friends - there's no reserve about her writing. I read it over and over again because she manages to make me feel that she and I genuinely share a sense of humour and a cultural hinterland. Huh? She's 'the Honourable' - Tory-party Jewish - I'm state comp C of E: but when she makes daft puns and self-deprecatory remarks and tongue-in-cheek literary references, it's as though we were separated at birth. That's not my craziness, and it's not accidental. It's simply incredibly talented writing.
Tuesday 17th May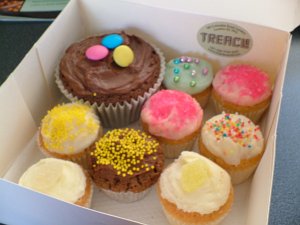 So cupcakes are the Next Big Thing, apparently. In New York celebs actually queue at Magnolia. In London, every glossy 'lifestyle' weekend paper supplement has featured Treacle, a determinedly retro cake-and-china shop on Columbia Road. I don't know whether it's because they're hugely confident of success, or somewhat doubtful of the weekday passing trade, but they're only open on Sundays, when the flower market brings the crowds. They do mail order the rest of the time, which I imagine keeps them going pretty well. We popped along last weekend to try it out - I made sure we got some of everything, of course. Standard sized cupcakes are £1.10, mini ones 60p or nine for £5.00. (I asked for a mixture and got one large and eight small, for which I was charged £6.10) The chocolate and vanilla cakes are excellent and I was especially pleased with the lemon because I'm not usually a fan - but these were made with fresh lemon zest and were really tasty. Both small and large were absolutely perfect in texture and cake/icing ratio.The icing is very buttery, very sweet of course but also with a real flavour of chocolate, vanilla or lemon. As for the decor, it's very sweet and retro (in a homemade, 5th birthday tea party way rather than a 60s design way) - a huge variety of sugar sprinkles, Smarties and those break-your-grandma's-teeth silver sugar balls, all in lovely cool bright colours. I would have to say I have seen more exquisitely decorated cupcakes but although Treacle's don't give you that 'my god, I'm in the presence of a master craftsman' feeling, they are a) trendy b) darling and c) a bargain. And it's a small enough, 'real' enough business that although they don't exactly say so, I imagine you can dictate style/colour/theme if you are ordering a lot.
Sunday 15th May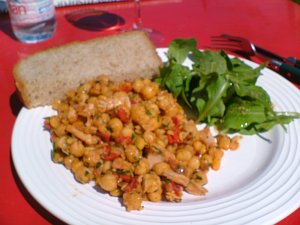 A breezy day in south-west London. Crowds flock to Twickers. For most of them, admittedly, food is the last thing on their mind. Beer, certainly; pie, perhaps. But for a small and mildly obsessive sub-group, thirty sweaty men and their oddly-shaped balls are of little interest. The food bloggers of London (very broadly defined) are gathering instead at the home of the Passionate Cook to meet for the first time (mostly) In Real Life. The food, the drink, the conversation were of the excellence you would expect. I didn't have my camera (d'oh!) so the recipe for my contribution is accompanied above by a snap of the leftovers, as eaten for lunch in the sun today. But the others were better equipped, and I strongly recommend you visit their respective sites for further particulars...
I fell back on Brindisa for support, who've never yet let me down. The yumminess of this chickpea salad owes nothing to me and everything to buying organic dried chickpeas, Ortiz yellowfin tuna, roasted piquillo peppers and smoked Spanish paprika. An interesting newer find was cocktail-sized morcilla (black pudding). Fried and served hot or cold - one of the most savoury accompaniments to a nice cold glass of Cava a blogger could wish for. Speaking of which, heads up to Decanter Wines who kindly provided (thanks to Andrew's persuasive charm) not only the Cava (Bohigas Cava Brut from Catalunya, £7) but also some very yummy rosé, a 2003 Fariña Colegiata Rosado, which I didn't half wish I had another glass of to go with these leftovers...
Tuna/Chickpea Salad for eight (generously)
500g dried chickpeas
1 jar roasted peppers
6 tbs extra virgin olive oil
2 tbs sherry vinegar
1 onion
1 tsp ground cumin
1/2 tsp ground fennel seeds
1/2 tsp (depending on strength) dried chilli
2 tsp smoked paprika
1 250g tin tuna
Bunch fresh parsley
Soak the chickpeas overnight in lots of cold water with a couple of teaspoons of bicarbonate of soda. Drain, rinse, cover with fresh water and cook for about an hour and a half, first bringing them to a fierce boil then simmering gently. Drain and dress while warm with oil and vinegar. Chop the peppers and add to the chickpeas. Chop the onion and fry in olive oil until quite soft - but don't be afraid to get a nice brown edge. Add the cumin, fennel, chilli and half the paprika. Fry a minute or two longer, then add to the chickpeas. You can do things up to this point the day before if you like, and keep in the fridge until half an hour before serving. At that point, break the tuna into flakes, chop the parsley finely, and add everything, including the rest of the paprika. Turn over gently to mix everything up without breaking up the tuna too much more. Serve as part of a buffet or with bread and salad for lunch.
Wednesday 11th May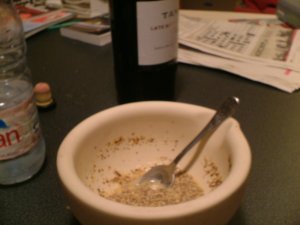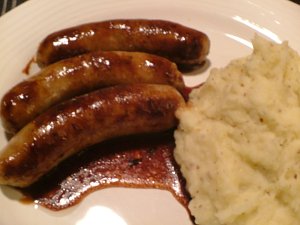 C made these (mustard and sausages with mustard mash and port reduction respectively); very tasty they were, but I wouldn't presume to tell you how he did it. He may or may not get round to mentioning it in his Advogato journal.
Monday 9th May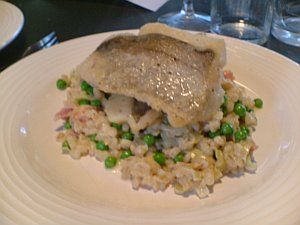 My attempts to abide by the advice not to eat cod anymore have been half-hearted so far. I like cod and the various alternatives on offer haven't looked very inspiring. But this week I bought whiting - bland name, bland fish, but sometimes that's what you need. It's like chicken: if it's the weekend or we have guests, or if what I want to highlight in a dish is chicken, then yes, I'll buy the good stuff. Weeknight curry? Bargain basement. And so with fish. I was going to make a hearty, tasty pearl barley 'risotto' with bacon and leeks, and I wanted some flaky, crispy fried fish to serve with it. Fillets of whiting (which gets the thumbs up from the sustainability guys), pressed in seasoned flour and shallow fried for three-four minutes on each side (until a knife slid into the thickest part comes away genuinely hot), were just the job.
Pearl barley leek risotto
2 large leeks, sliced finely
3 rashers of smoked bacon, chopped small
200g pearl barley
500ml chicken or vegetable stock
100g frozen peas
sprig of fresh herbs: parsley, mint, perhaps thyme, chopped
2tbs crème fraîche
Melt a small knob of butter in some olive oil and sweat the leeks for ten minutes until very soft. Add the bacon and increase the heat slightly, frying until opaque. Add the pearl barley and toast for a minute or two until sizzling lightly. Add the hot stock and bring to the boil. The joy of pearl barley is that you can add all the stock at once, cover and leave: it takes a little longer than a proper risotto (up to three-quarters of an hour) but it doesn't need feeding and stirring. After half an hour, you can taste to see how much longer it needs (and you might want to adjust the seasoning). The grains retain more chewiness than rice, but there should be no chalkiness in the centre. If it's pleasant to eat, it's fine. A couple of minutes before you want to eat, add the peas and stir through: if you serve when they have just thawed but hardly cooked, they will keep a lovely fresh green and almost pop in your mouth like little bursts of springtime. Finally, just before serving, stir in the chopped herbs and crème fraîche.
Wednesday 4th May
I've done some research and I think the curry I enjoyed so much at our rijsttafel (note corrected spelling) was probably a rendang. This is a Western Sumatran dish originally made of water buffalo meat. The method is to cook the meat, with spices, in coconut milk, which reduces and splits over the long cooking time to make a rich, oily and sticky sauce. Sounds like the right thing; here's a recipe - I'll try it out and let you know if it's remotely the same.
Monday 2nd May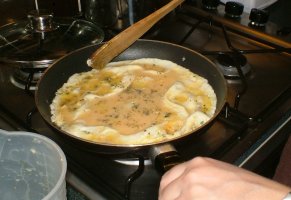 The assignment for my food-writing course this week is to write a recipe for an omelette. Pertelote has never featured an omelette recipe, and if it had, it would most likely have read in its entirety, 'first, seduce your frenchman; second, tell him you'd like some lunch'. But somehow I don't think I can pull that off in the first week of the course - so here's the serious version.
An omelette is a very personal thing, so take this recipe as a template for one serving, and experiment until it's all your own. Just remember that anything you want to add - be it the classic fines herbes (chervil, parsley, tarragon and chives) or something more exotic - needs to be chopped, fried, grated or sliced, and absolutely ready to go, before you start. This goes equally for plate, cutlery, glass of wine, etc. Omelettes don't hang about.
Omelette for one
Three eggs
25g butter
Small handful of filling of your choice: cheese, herbs, mushrooms, crispy bacon...
Break the eggs into a bowl. Add about a third of the knob of butter and beat briefly with a fork. Season with salt and pepper. Heat the rest of the butter in a frying pan over a high heat. You may need to break it up with a wooden stirrer to ensure it melts evenly. When it is sizzling hot, pour in the eggs. They will start to set immediately. Pull the edges towards the centre a little to allow the liquid to run around the outside and set, giving the omelette a lacy, crispy edge. If you are adding any filling, scatter it over one half of the omelette and immediately be ready to turn it out onto a plate. This has all taken only a minute or two, but it will be ready: lift the edge gently to reassure yourself that it is golden. It should still be runny in the centre. Slide half the omelette out onto a plate, flipping the other half over on top of it.
Sunday 1st May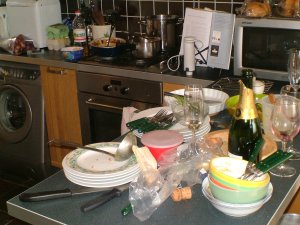 This is the sordid aftermath of lunch with the Drs this weekend. Here's the menu:
Gouda biscuits from Amsterdam
Etienne Dumont Champagne Brut NV
Pea soup with deep-fried portabella mushrooms
Marlborough Sauvignon Blanc
Tamasin Day-Lewis' Smoked Haddock and Watercress Tart (The Art of the Tart), served warm with new potatoes and English asparagus
Oxford Landing Chardonnay
Dutch cheeses: with cumin, with cloves and smoked
Fitou Ancien Comte Reserve 2003
Nigella's Sticky Toffee Pudding (Nigella Bites); vanilla ice cream
Coffee; espresso truffles
The two new things, then, were the tart - well, quiche - and the pud. The flavours of the quiche were very moreish, the irony watercress sitting very well with the hot-smoked haddock flakes. We ate it straight from the oven. The sticky toffee pudding was insurance in case the first two courses turned out to be more summery than the weather really justified. C requested it after I explained that I wanted something warm and filling (and after I ruled that no matter how great the comedy potential, we were not having 'two tarts'). It's not something I had ever made or even eaten before, but OMG what had I been missing! I was afraid it would be tooth-achingly sweet and bland, but using dark muscovado sugar and some vanilla extract gave this such depth of flavour. The sun came out just as we moved on to the cheese course, so we finished the meal in the garden. We talked about the election (of course), and house prices (of course), and evening classes (mine) and weddings (theirs), and which of our contemporaries have had babies (eek) and which of them are listed as benefactors in the latest alumni mag (blimey) - and food and books and music, music, music. Just lovely.
Pea soup (serves 4)
500g frozen petit pois
500ml chicken stock
two rashers of bacon
one clove of garlic
one egg
50g plain flour
30ml milk
4 medium portabella mushrooms
Chop the bacon into very small shreds and fry in a little olive oil. Add the peeled but whole garlic clove and fry until bacon is opaque and garlic slightly golden - just a couple of minutes. Add the stock and bring to the boil. Add peas and bring back to the boil. Cook at a rapid simmer for three-four minutes until peas are tender. Season and whizz in a blender until smooth. Turn heat down, or off if you don't trust your hotplate - just keep warm while you fry the mushrooms.
Slice the mushrooms thickly - you need to get four evenly sized slices from each, discarding the tatty ones from each end. Whisk flour, milk and egg together and season. Heat a couple of centimetres of vegetable oil in a deep pan. You can test the heat by dropping tiny drops of batter into the oil: when they turn golden brown immediately, it is ready. Holding each mushroom slice with tongs, dip it in the batter and then the oil. Fry each slice until golden and crispy, then lay on kitchen towel to dry. When all are ready, serve the soup, floating a couple of slices in the centre of each bowl.